Our Team
At IT for Change, individuals from a wide range of disciplinary backgrounds, professional expertise and skill sets work with a shared commitment towards progressive social change. Working across a multitude of settings, whether in schools, government agencies, multilateral and international agencies or the community, our team brings innovative ideas to our field projects, coalition building, consulting, research and advocacy projects.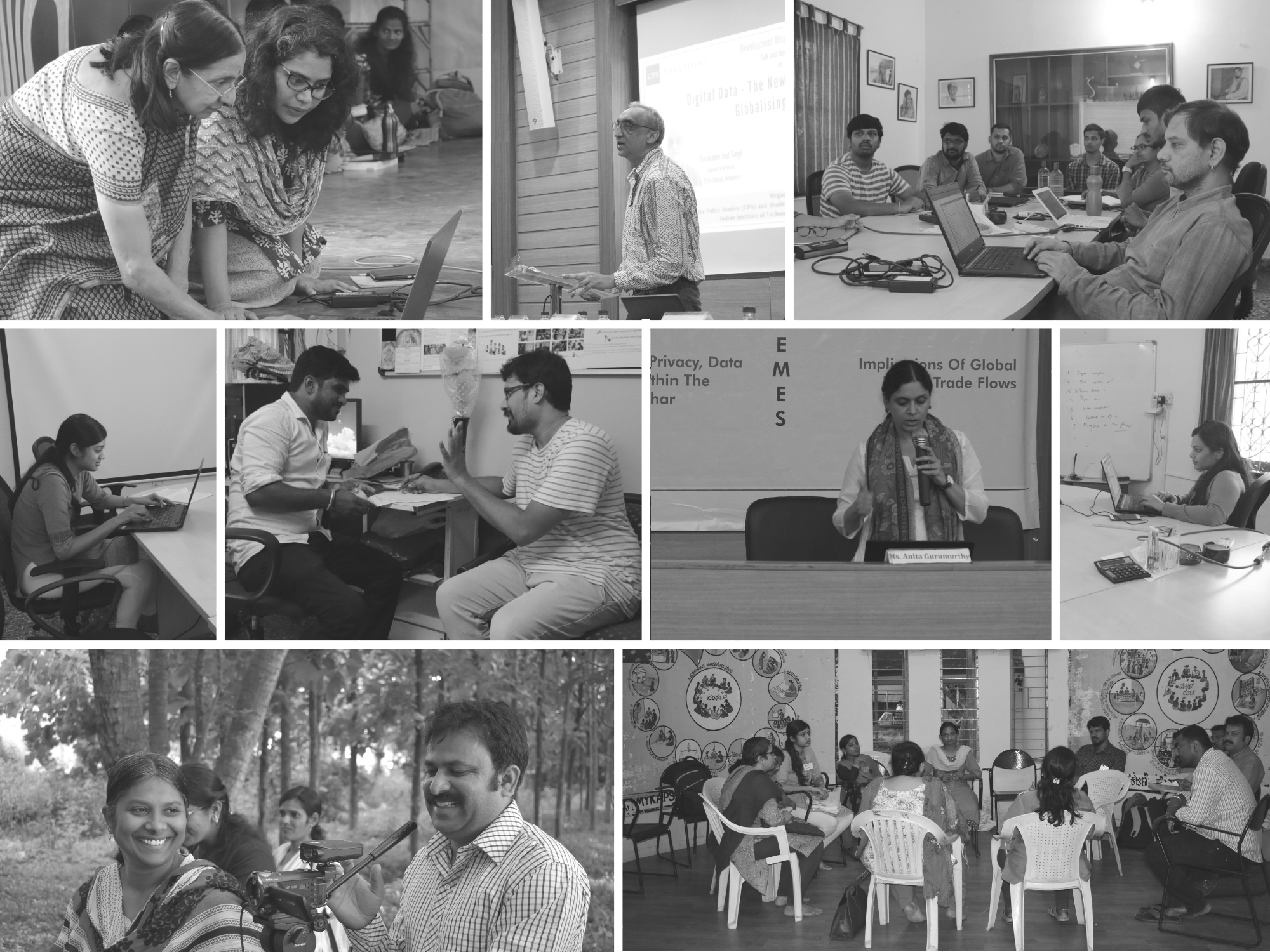 Board of Directors
Anita Ratnam, Member
Gayatri Menon, Member
Geetha Narayanan, Secretary
Gopa Kumar K. Thampi, Member
M. Vijayabaskar, Associate Member
B
Padma M. Sarangapani, Treasurer
Solomon Jayaprakash, Associate Member
Srilatha Batliwala, President
Upendranadh Choragudi, Associate Member
Executive Directors
Anita Gurumurthy
Director
Gurumurthy Kasinathan
Bengaluru Team
Ajay More, Technology Intern 
Amrita Vasudevan, Research Associate
Ananda D,  Program Associate
Chaitra, Program Associate

Dara Casey, Research Intern

Deepti Bharthur, Senior Research Associate
Harish, Project Intern – IT
Karthik, Project Assistant – Education
Manu Pandey, Research Intern

Meenakshi Yadav, Communications Associate
Meera Mohanty, Programme Intern
Nandini Chami, Deputy Director
Nitesh, Project Intern – IT
Prakriti Bakshi, Communications Intern
Pramath, Programme Intern
B
Prasanna Kumar, Office Administration Assistant
Preeta Pattar, Project Associate
Rakesh B, Project Associate – IT

Sandeep Prakash, Senior Accounts Officer
Sarada Mahesh, Project Associate
Shreyas, Project Intern – IT cum Administration Support
Sriranjani Ranganathan, Deputy Director
Suhas, Project Intern  – IT
Sunil C, Program Assistant
Tamilarasi, Support Staff
Trivikrama, Programme Intern
Vineetha Venugopal, Project Associate
Valli, Support Staff
Yatti Soni, Communications Associate
Yogesh K, Technical Associate
Mysuru Team
Anupama Suresh, Program Coordinator
Chaya, Accountant & Admin Support
Harisha N, Project Associate 
Mangalamma, Project Associate
M
Shabharish, Technical Associate 
Shreeja, Project Associate 
Somashekar, Project Associate 
Tilak, Project Assistant & Driver
Contributing to the development of IT for Change website helped me access the wealth of knowledge the organization has created over several years. It helped me get a better perspective on linkages between information technology and developmental issues like gender, governance, education, and democracy. Most remarkable aspect was the use of open source technologies, since my internship I have became an advocate of Open Source.