Prakriye Field Center
Prakriye, our field resource center, deploys the creative potential of information and communication technologies in furthering socio-political empowerment of marginalized rural women and adolescent girls, and promoting gender-responsive local governance. In its efforts to evolve a radically new development praxis that brings power to the peripheries, the center engages with rural women's collectives, adolescent girls, male community leaders, local government institutions and community based organizations in over 60 villages of Mysuru district, India.
Overview
In the year 2017-18, Prakriye, through its seven information centers (Namma Mahiti Kendras) in Hunsur and H.D.Kote blocks of Mysuru district, continued to work with marginalized rural communities to facilitate and expand their access to public information and welfare schemes. The information centers set up in partnership with grassroots women's collectives, have, for over a decade now, focused on addressing women's social exclusion from local information architectures and social safety nets. The centers also lead social audits of public infrastructure and public service delivery; and act as nodal points that catalyze 'education-for-empowerment' processes for marginalized women and girls.
The work of each center is coordinated by a young woman infomediary (locally known as a sakhi) from the community, who is trained and mentored by the Prakriye team. In their work, sakhis are supported by a Managing Committee, comprising members of women's collectives, as well as women frontline extension workers from the health and nutrition system, and elected women representatives.
Expanded reach of information centers
Over the course of the year, the centers have expanded their area of work from 29 villages to more than 66 villages that are located within their vicinity. Between April 2017-March 2018, 3200 community members were covered through the public information outreach activities of the center, including face-to-face visits by sakhis and mobile-based public information outreach over IVR messaging. 280 applications for welfare entitlements were successfully processed. In collaboration with local government agencies, the centers also organized sanitation campaigns, health camps, nutrition day celebrations at anganwadis (government-run child care centers), and participatory GIS-enabled audits of public infrastructure.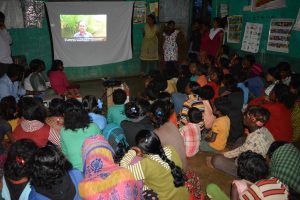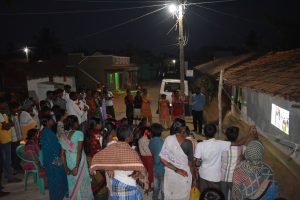 Commmunity media screenings
Community media for a counter-discourse on gender and governance
12 episodes of Prakriye's video news letter, Nodu Sakhi ('See my friend'), were brought out in the year. The newsletter not only contained informational snippets about welfare entitlements and activities of local government agencies, but also thought-provoking segments that questioned prevailing cultural norms contributing to women's subordination and exclusion of women's concerns from local governance processes. 391 community screenings were held in 66 villages, reaching out to a total of 6398 individuals, including members of women's collectives, elected representatives, male community leaders, adolescent girls and adolescent boys.
I strongly feel that in collaboration with IT for Change, we should routinize community video-based dialogues for Panchayat members, so that elected male representatives are sensitive and responsive to women's needs and concerns. In our Panchayat, after these dialogues, we are thinking of how to revive the social justice committee.
Targeted information outreach over mobiles
120 messages were sent to 892 subscribers over our mobile-based voice messaging network. Content included information on application criteria for entitlements, announcements from local government agencies, thought-provoking messages on girls' rights, accountable governance, and awareness-raising against child marriage. The voice messaging system relies on a segmented database that maps the diverse information needs of each subscriber, such as agricultural livelihoods, health, welfare scheme updates and so on.
Learning dialogues with adolescent girls at the margins
We expanded our program 'Dhwanigalu: Learning dialogues with adolescent girls' to the villages of Jakkallli, Naganahalli, Kattemanuganahalli and Hirehalli. 102 adolescent girls in the age group of 12-16 years signed up. A range of digitally-enabled learning strategies (photo essays, digital stories, participatory video) were deployed to trigger conversations on rights to voice, participation, bodily integrity, and mobility. We also pushed participants towards questioning internalized gender scripts. Girls who were part of Dhwanigalu have been able to negotiate successfully for postponement of marriage, pursuing college education and have raised key concerns, such as public safety, in local governance forums.
I had a feeling that men are superior to women. After being part of Prakriye's activities, I realized that both are equal. I now tell all the men in my family that everyone is equal and anybody can do any work. We should not be foolish enough to blindly accept patriarchy
Plans for 2017-18
We increasingly feel that our strategies for socio-political empowerment of marginalized women and girls are incomplete unless we tackle head-on, the all-pervading issue of gender-based violence in public and private spaces. Edelgive Foundation has offered support for initiating this line of work. In March 2018, we launched the Namma Maathu, Namma Jaaga (Our discourse, our space) project that seeks to build a supportive community ecosystem for addressing gender-based violence against women and girls in 25 villages of H.D.Kote region, Mysuru district. We also plan to start learning dialogues for adolescent boys and young men, as a part of our efforts to challenge hegemonic masculinities and destabilize gender power hierarchies.
In addition, we are also planning to build synergies between Prakriye's efforts and our work in ICTs and Education. We are starting a program in two schools in our operational area on building the digital capabilities of high school students, with support from Kotak Mahindra CSR.