Gender Justice in the Digital Society
The feminist project of expanding women's autonomy and overturning entrenched power hierarchies demands new strategies in these datafied times. Digital technologies have completely restructured society and its institutions, and as data becomes the key artefact of power and control, feminism needs to stay ahead in its theory and practice. Our research, advocacy and networking efforts at global and national levels are directed towards this imperative, in order to promote gender justice in the digital society.
Policy research
Online freedom for all = No unfreedom for women
With support from the Web Foundation, we carried out a two-country research study in India and Bangladesh on strengthening existing legal-institutional response mechanisms to gender-based cyber violence. In January 2017, we kicked off the project with a brainstorming meeting in Bengaluru where we solicited inputs to our research framework from leading feminist practitioners, academics and civil society organizations engaged in the issue in the Indian context. The framework was tailored to the Bangladesh country-context by our research partner Article 19.
In both sites, the study focused on interrogating the shortcomings in existing national legislation with respect to addressing emerging forms of technology-mediated violence; and analyzing intermediary liability regimes for their effectiveness in balancing the competing considerations of the right to freedom from violence and freedom of expression. Additionally, we commissioned two papers to explore the complications of introducing effective governance frameworks on a platformized Internet.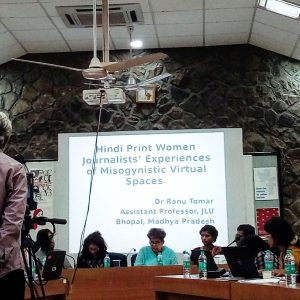 In February 2018, national consultations were convened in both countries in order to trigger an active public debate on the issue. For the India consultation, we partnered with the Advanced Centre for Women's Studies, Tata Institute of Social Sciences, Mumbai, for a systematic stocktaking of the various angles of the issue, by bringing together scholars, practitioners, activists, women's rights lawyers, journalists, and students from various disciplines. This consultation and our work in the area has been widely noticed: Amnesty International Bengaluru sought inputs from us to plan their national campaign on gender-based cyber violence; ICRW Mumbai approached us to help them with the methodology of their research on online violence as a public health issue; and Facebook India got in touch with us to be part of their forthcoming policy roundtables on evaluating their existing community standards.
The main finding from our research in the area is that the fragmented and piecemeal approach to cyber violence in existing legislation adversely affects access to justice for victims. Online violence that is blatantly sexist is often dismissed on the grounds that it is not sexually explicit; hence, misogynistic trolling and doxxing are seen by law enforcement authorities as social problems not falling within the purview of laws. There is also an urgent need to move from a morality-based approach to the issue to one that is founded in a new feminist jurisprudence grounded in the principles of equality, dignity, and privacy.
We shared these insights at the global level through a workshop that we co-organized with Web Foundation at the Internet Governance Forum. We were invited by media spaces with wide circulation such as GenderIT.org and LSE Peace and Security blog to write for their blog series.
A high point for us was the citation of our inputs in the final report on online violence submitted by the Special Rapporteur on Violence Against Women, Ms. Dubravka Šimonović  to the 38th Session of the Human Rights Council.
At the national level, we shared the key insights on future policy directions from our research and national consultation with the Ministry of Women and Child Development, Government of India. We were subsequently invited to contribute to the Ministry's deliberations on rethinking content regulation.
The Web Foundation has been impressed by the rigor and pathbreaking nature of our research and they extended continued support for this line of work in India in 2018. In the next phase, we are planning a deep dive into mapping the adequacy of law enforcement responses to gender-based cyber violence in three states: Karnataka, Kerala and Tamil Nadu. The main prongs of exploration will include mapping the shortcomings in police investigations of complaints of gender-based cyber violence, including lack of digital infrastructure and technical capacity for evidence gathering amongst law enforcement agencies; as well as difficulties faced in interfacing with Internet intermediaries such as Facebook and Twitter.
Digital India through a gender lens
In 2018, with support from Heinrich Boell Foundation, we undertook a research study on analyzing the Government of India's flagship program, Digital India, from a gender perspective. The program document itself does not contain any explicit reference to women's empowerment or gender equality. However, popular narratives around the idea of Digital India, especially statements and speeches by members of the Union Cabinet, tend to repeatedly invoke the trope of 'a digital revolution for women's empowerment', foregrounding women's digital enskillment, entrepreneurship, and inclusion in welfare delivery systems.
Our research report has focused on providing a critical overview of Digital India, evaluating the extent to which the three main outcome areas of the program – 'infrastructure as a utility to every citizen', 'governance and services on demand' and 'digital empowerment of citizens' – address gender-transformative change. It also offers suggestions for building an enabling environment to expand opportunities and strategic life choices for women, and contributing to gender equality, as economic, social and political arenas are fundamentally redefined by digital technologies. This report is a much-needed contribution since digital infrastructure and digital economy policies and strategy documents, even those prepared by NITI Aayog, continue to be gender-neutral.
Institutional capacity-building
Egov4Women toolkit for governments in the Asia-Pacific
Building on our seven-country research study on harnessing e-government for women's empowerment in the Asia-Pacific that we carried out in 2016, we developed the 'Egov4Women' Toolkit.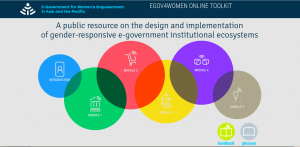 This is the first policy toolbox that explicitly addresses what it takes to systematically mainstream gender perspectives in e-government. It is also timely since the datafication of governance has made digital strategies increasingly central to every aspect of governance. Through a set of five comprehensive modules drawing upon insights from good practices in the region and beyond, the tool kit provides key pointers for policy makers on gender-responsive design of e-service delivery, e-participation and connectivity initiatives, and also introduces a capabilities-based approach to outcome evaluation of e-government for women's empowerment. We have trained state government officials using the Toolkit, in partnership with the Lal Bahadur Shastri Academy of Administration, Mussorie, in November 2017. This toolkit developed with support from the Korea-ESCAP Cooperation Fund was officially launched at the UN CSW in March 2018. It has found special mention in the UN E-government Survey 2018 as a valuable resource on gender mainstreaming in e-government.
ESCAP has expressed interest in supporting IT for Change in implementing capacity-building programmes in select countries in the Asia-Pacific region.
Networks
We have been closely engaging with number of global networks to influence the dominant policy discourse on women's rights in the digital economy and society. We introduced the BRICS Feminist Watch Coalition to critical perspectives on gender and digital trade, and the 'data for development' agenda in the SDGs. We have also been contributing regularly to online ideation processes on 'technologies for empowerment', convened by the W20 Coalition: an official dialogue group of the G20 which promotes the economic empowerment of women and gender equality in the G20 countries. We are also a member of the 'political feminism' network convened by Friedrich Ebert Stiftung and we bring in new perspectives at the intersections of 'gender justice' and 'the digital' to network members. We have been approached by leading organizations in the digital rights space such as Association for Progressive Communications to contribute framework papers for their research strategy development on gender and digital rights.
Engagement with UN processes
IT for Change was a part of the CSO delegation supported by UN Women India to participate in UN CSW 62, March 2018. Nandini Chami spoke at the Interactive Expert Panel on 'Innovative data approaches' for measuring progress on gender equality and women's empowerment. We also supported UN Women India in finalizing their comments on the zero draft of CSW 62.
As an International Steering Committee member of the UN Global Alliance on Media and Gender (GAMAG), we wrote a critical feminist analysis of the algorithmic connection to the public sphere, contributing to GAMAG's reflections on the review theme of the UN CSW.
Public lectures and panels
In July 2017, Anita Gurumurthy was invited to be a faculty at the Asia Pacific School of Internet on the topic 'Gender and the Internet'.

In November 2017, Nandini Chami was a speaker at the panel discussion 'Towards bridging Digital India's gender divide' that was organized by Institute of Social Studies Trust.

In November 2017, Anita Gurumurthy was invited to be a part of the panel discussion 'Is Digital India a country for women?' at the Beyond Borders conference organized by Women's Education Project (India), to foster partnering and exchange of strategies, programs, and resources among NGOs, social enterprises, CSRs, foundations and individuals committed to advancing the lives of girls and women.

In March 2018, on the occasion of International Women's Day, Anita Gurumurthy was invited by the Centre for Policy Studies, IIT Bombay, to deliver a lecture at the dialogue on 'Women and Work'.
Plans for 2018-19
We will initiate the next phase of our research study on gender-based cyber violence, with support from the Web Foundation. We are also entering into a collaboration with DAWN (Development Alternatives with Women for a New Era network) to produce issue papers on women's rights in a transforming digital context. We seek to develop and disseminate Southern feminist perspectives on the politics of data, through this collaboration. Meanwhile, we will continue our engagement with UN and also take our analysis to new forums like the WTO to enable multiple constituencies to grasp challenges and opportunities for gender justice in the current juncture. We are forging linkages with the 'Gender and Trade Coalition' in this regard.