Governance of the Digital Economy
Our policy research and advocacy efforts in relation to the digital economy have focused on building evidence about platforms – the dominant theme of the current social and economic order, articulating the rights of marginalized constituencies in emerging economic arrangements and promoting digital policy frameworks for economic sovereignty and the right to development.
Overview
This year has been a watershed in our global work on Internet, data and social justice. A dedicated track of work in relation to global governance frameworks for the digital economy (or the e-commerce agenda, as it is termed in global trade forums) was initiated. The Internet has not just transformed our information and communication spheres, but has also begun to influence the entire economy. Global digital corporations have accumulated enormous power, presenting platformized business models that threaten to undermine traditional economic actors and industry in all sectors: whether it be retail, urban transport, food business, payments and insurance, or health, education and agriculture. In addition to taking advantage of the network effects, these emerging business models also focus on extracting and monopolizing data for honing competitive advantage. Developing countries are becoming increasingly concerned about what this means in geo-economic and geopolitical terms. They seek an effective response to check the unilateral flows of data from the global South to powerful Big Tech companies of the global North, which threaten to permanently thwart the growth pathways of developing countries in the digital economy.
In order to pre-empt these concerns from coalescing into a unified economic policy agenda from the global South, the United States has introduced its own policy proposals for the digital economy in global and plurilateral trade negotiations. In the guise of 'e-commerce for development', these set of proposals intend to take away the policy space that developing countries currently have with regard to determining the pace of liberalization of digital trade in goods and services, and regulating cross-border data flows. By early 2017, signs were evident that the US and its allies planned to introduce this agenda in the WTO ministerial conference – MC11 – in December. Challenging this dominant discourse has thus been the most important priority for us this year.
We were also quite prescient in building our strategic research directions in this area, and in 2016, had submitted a proposal to IDRC on policies for a platform economy. The proposal was cleared in early 2017 by the Ministry, after a long gestation, and has been a wonderful opportunity to produce evidence ground-up on various platforms across 14 different countries.
Global advocacy on digital trade policy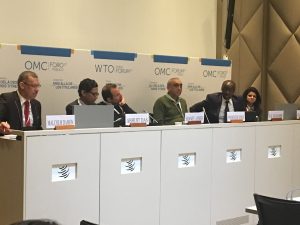 In the lead-up to the WTO Ministerial Conference in Buenos Aires in 2017, IT for Change closely worked with the South Centre, Geneva, to build capacity among developing country delegates on alternative policy stances on digital trade to resist the US. We forged strong linkages with the trade justice coalition 'Our World Is Not For Sale', and with trade activists from the Third World Network and other groups. In addition, at the national level, we connected with the Centre for WTO Studies situated in the Indian Institute of Foreign Trade. These linkages have allowed us to play a sustained role in India's engagement at the WTO e-commerce discussions.
The crux of our policy advocacy has been on highlighting the importance of a digital industrialization roadmap for developing countries, to support their nascent digital industries. We have asserted how this roadmap required developing countries to adopt trade negotiation stances that would help them preserve their policy space to regulate market access for e-commerce and guard against data extractivist practices of transnational digital corporations. We brought together these ideas in our paper 'Digital Industrialization in developing countries: A survey of the business and policy landscape', supported by the Commonwealth Secretariat, London.
Many presentations were made to disseminate the ideas in this paper, including at ministerial level meetings, in India and outside. We also shared these insights at a workshop on 'Implications of WTO e-commerce proposals on digital industrial policy' that was organized as part of the WTO Public Forum 2017.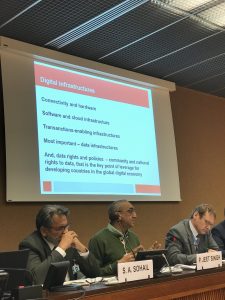 The paper was also cited in critical UNCTAD documents such as the Trade and Development Report, 2017 and in many UNCTAD forums. Parminder Jeet Singh from IT for Change was invited as a resource person to the UNCTAD meeting in Colombo, Sri Lanka, in March 2018, on 'Digital trade and industrialization: Perspectives from the South'. This was a capacity building exercise for top-level trade officials from South and South East Asia. In the same month, he was also invited to participate at UNCTAD, Geneva, in an experts meeting on 'Adapting industrial policies for economic diversification and structural transformation to a digital world'. He also co-authored a paper with an UNCTAD staff member on 'South-South Cooperation on the digital economy'.
At the WTO ministerial, in Buenos Aires, in December 2017, we presented our concerns to a meeting of commerce ministers and WTO ambassadors of select countries, including India. After our presentation, we were specifically asked by the Indian minister for a follow up meeting in which we suggested that India begin a process of developing a digital industrialization policy, a recommendation that received a very positive response. We have also continued the conversations on this policy agenda with some African countries who share these concerns.
Policy advocacy around the proposed Regional Comprehensive Economic Partnership (RCEP)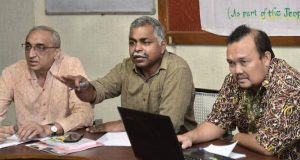 IT for Change has been actively engaged in civil society advocacy around the Regional Comprehensive Economic Partnership (RCEP), a proposed trade agreement that covers 16 countries in the Asia-Pacific region. We participated in the People's Convention on the RCEP that was held on the sidelines of the negotiators' meeting scheduled in Hyberabad, India in July 2017 to raise awareness about the impact of cavalier provisions (as gleaned from the leaked text) on farmers, workers, small traders and other marginalized groups. At this venue, we made a presentation of our analysis of the new rules proposed in the e-commerce chapter to a specially arranged session for the negotiators. We also shared this as part of the official session for civil society inputs. These meetings enabled us to connect to various constituencies at the grassroots on the impact of new rules on digital trade and cross-border data flows proposed in the e-commerce chapter of the agreement, on the lives and livelihoods of their members. We continue to work closely with these groups, helping them understand and engage with digital issues.
National advocacy to shape a data strategy for India
In addition to advocating a cautious approach to making policy commitments for e-commerce in global and plurilateral forums, we have also been engaged in national level policy advocacy to highlight the need for a nuanced digital industry policy that distinguishes between traditional IT and IT-enabled service industries and emerging data and AI start-ups that need a supportive policy environment to hone their digital intelligence capabilities.
Multi-country research on 'Policy frameworks for digital platforms'
In 2017-18, we launched our multi-country research study on 'Policy Frameworks for Digital Platforms', with support from IDRC (Canada). As part of this project, 12 research studies are being undertaken in various sites across Asia, Africa, Europe, North America and Latin America. The studies touch upon a broad range of topics – ride-sharing, travel and hospitality, e-commerce, P2P networks, fin-tech, video on demand, care-work and agritech. The core objective of the research study is to identify policy directions that are required to further rights and inclusive development in the platform economy, covering sectoral and cross-sectoral policies, including emerging ones on data.
Following finalization of grantees in October 2017, research teams were invited to develop full proposals for the project based on feedback offered on initial applications. Subsequently, two orientation webinars in November and December were convened by IT for Change for the network of researchers. In January 2018, a third webinar was held by IT for Change to finalize the research framework developed for the project, with feedback from the network of researchers. In June 2018, the network will meet over a two day project review meeting which is being organized in collaboration with the Centre for Policy Studies, Indian Institute of Technology- Mumbai. Research teams will share findings and updates from their ongoing work and come together to chart the next phase of the project.
Other engagements
We supported the Centre for Policy Studies of IIT Bombay in curriculum development for their course on digital economy and society. Our interactions took off with a lecture at IIT-B on 'Digital data: the new raw material in the Globalising Economy' in July 2017.

We were invited by the Department of Micro, Small and Medium Industries to brainstorm on the role of this sector in the transition to the digital economy.
Plans for 2018-19
We will continue our advocacy efforts at global and national levels to challenge the dominant 'e-commerce for development' agenda, by building a counter-discourse that approaches the issue through a Southern lens. As the secretariat of the Just Net Coalition, we are also trying to raise funds for convening a cross-movement dialogue on economic justice in the datafied world that will bring progressive civil society organizations together to reexamine development priorities in the current context. Our ongoing association with feminist networks and member organizations of Our World is not for Sale network will be pivotal in this regard. We will build on our research footprint, bringing out publications from the project on platform policies, and begin analytical writing on cutting edge issues in relation to Artificial Intelligence and the economy.