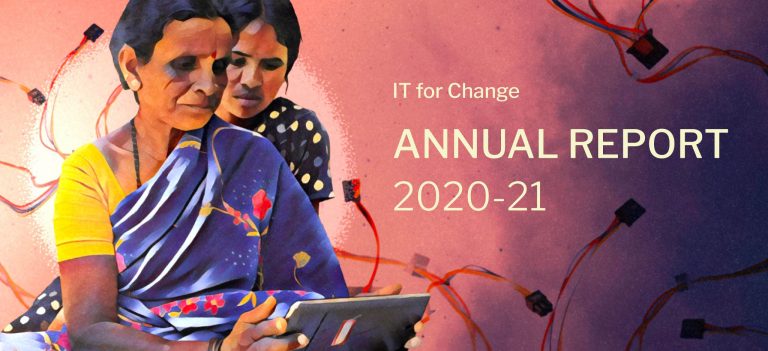 Prakriye Field Center
Prakriye, our field resource center, deploys the creative potential of information and communication technologies to further the socio-political empowerment of marginalized rural women and adolescent girls and promote gender-responsive local governance. In its efforts to evolve a radically new development praxis that brings power to the peripheries, the center engages with rural women's collectives, adolescent girls, male community leaders, local government institutions, and community-based organizations in over 60 villages from HD Kote and Hunsur blocks of Mysuru district, Karnataka, India.

Namma Mahiti Kendra: Enabling Access to Local Information
The year 2020-21 was like no other. The Covid-19 pandemic had a devastating impact on people's employment, health, and education. It further highlighted the importance of access to local information on welfare schemes and governance processes. When the lockdown disrupted the daily lives of people, access to information on pension schemes, subsidies, job openings etc., became vital. Prakriye continued its efforts to address this need for information by expanding the scope of our information centers (Namma Mahiti Kendras). During this time, our infomediaries (locally known as sakhis) who manage Namma Mahiti Kendras relied on phone calls and instant messaging platforms to collect and share information with people. They created discrete messaging groups to target information appropriately to various constituencies eligible for welfare schemes, pensions, job openings, etc.
Nagaveni traces her journey as a sakhi at one of our Namma Mahiti Kendras and encourages young women like her to break social barriers and pursue their dreams.
In the months that allowed in-person interactions, sakhis shared information by visiting individual households, attending sangha (self-help group) meetings, and screening films, while complying with Covid-19 guidelines.

In 2020-21, sakhis processed 492 entitlement claims. Agriculture and agriculture-allied schemes, pension schemes, and welfare schemes for girls were some of the most common benefits claimed. Sakhis also assisted local community members in obtaining government identity cards and property ownership documents.
We did not have a ration card for over 15 years. We kept moving in search of work due to the pressures of debt. When the sakhi found out about us, she visited our house and facilitated the process to get us a ration card. We have been able to save some money since we got the card.
Enabling women's economic empowerment is a crucial component of our work. This year, sakhis continued to link women to job opportunities and skill-development programs. They also helped women receive government subsidies and the benefits needed to kick-start entrepreneurial activities.
We organized networking meetings in Namma Mahiti Kendras, where self-help groups engaged with our network of local public and private representatives such as bank managers, doctors, panchayat 1 members, and line-department officials. These meetings provided a platform for women to voice their specific needs and make informed choices.

Sangha members attend a tailoring workshop.
Namma Maathu, Namma Jaaga: A Program Addressing Gender-Based Violence
With support from the EdelGive Foundation, the Namma Jaaga help desks have continued to support survivors of gender-based violence. Our para-counselors (40 Anganwadi2 workers and sakhis who run Namma Jaaga help desks) became immediate points of contact for women seeking support.

The pandemic marked a significant increase in instances of domestic violence. However, the lockdown also stopped women from seeking support. Para-counselors employed technologies such as phone calls and chats to provide psycho-social aid to as many women as possible. They also held meetings – with due attention to social distancing protocols, regularly followed-up on cases, and linked survivors to Mahila Santwana Kendras3 and women's hostels.
This year, Prakriye regularly mentored para-counselors through virtual sessions. In February 2021, we conducted in-person refresher trainings to discuss the para-counselors' ongoing cases. Each para-counselor is equipped with a tablet pre-loaded with audio-visual curricular material that helps them initiate conversations on gender with women's groups. These conversations help women open up about their own experiences of violence and seek support. The refresher trainings gave us an opportunity to review and upload new content on gender roles, gender stereotypes, and women's rights.
Capacity Building Through ICT – Mediated Gender Dialogues


Prakriye continued to harvest the creative potential of participatory media strategies to break the silence around the normalization of gender-based violence. We used fictional and non-fictional IVR messaging that ends with a call-to-action encouraging communities to take concrete steps to make progressive changes in their families and communities. This year, we sent out 152 IVR messages covering diverse themes such as Covid-19, agriculture, health, education, and gender equality.
I receive the IVR messages on my phone and I can listen to them from anywhere. The messages related to agriculture are useful to me as a farmer.
Prakriye's digital stories4 and short films align with the development objectives of the local communities. The videos narrate the stories of women from the community and shed light on their legal, political, and cultural rights. Screening these films for groups and individuals makes space for deeper engagement and encourages reflective learning among women, men, adolescent girls, and boys.
In 2020-21, Prakriye produced seven digital stories and nine short films. Our sakhis and para-counselors screened them for local communities. We conducted over 125 video screenings and engaged with over 1200 people across our operational areas.
Occupying Public Spaces

Public spaces, like playgrounds, are avenues for communities to participate in social and cultural life, promoting pleasure, self-expression, networking, and leisure. However, women are deprived of such public life, and their cultural right to participate in sports remains largely unacknowledged. To initiate a discourse on equality in the public sphere, Prakriye organized a sports event in March to celebrate International Women's Day, 2021.
Towards an Equal Future: Breaking Social Barriers and Occupying Public Spaces: A short film capturing the highlights of the Sports Day
Nearly 600 women from 55 villages of our area of operation participated in games like lemon and spoon race and tug-of-war in village and school playgrounds. They also watched a film that shed light on the history and significance of International Women's Day.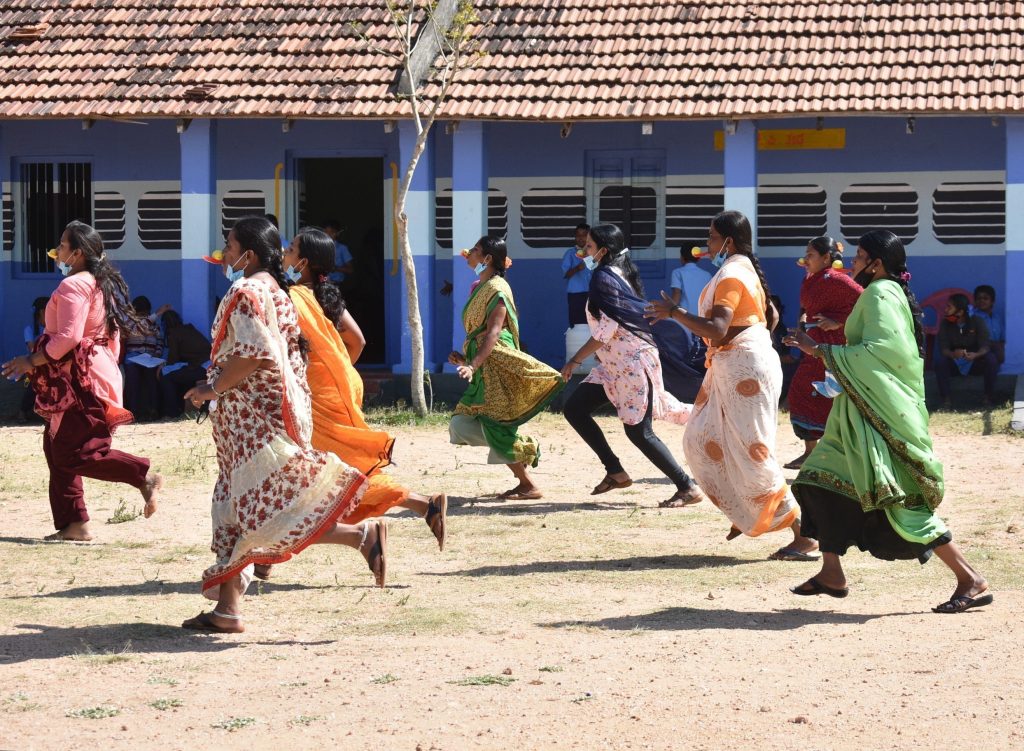 We were enjoying ourselves so much. We had not been so carefree in a long time. I was reminded of my childhood.
Collaborations
Milaan Foundation's Girl Icon program invests in collectivizing girls at the grassroots and training them to hone their leadership skills. IT for Change supported the outreach for this program through our field networks. Over 20 girls from our reporting area signed up for this program.

We continued to work with Karnataka's Ministry of Women and Child Development (WCD) to address the grievances of women and girls in the villages from our reporting area. Our para-counselors conducted workshops and one-on-one sessions to train Anganwadi workers on how to use the Anganwadi data entry portal set up by the Ministry of WCD.

A digital story reflecting on the invisiblization of women in agriculture in India.
Impact
In 2020-21, we prioritized the challenge of mitigating the adverse effects of the pandemic on the community, including the livelihood crisis which has left many with little to no income and struggling to make ends meet.

Throughout the year, with the support of EdelGive Foundation, Tech Mahindra Foundation, and Cognizant Foundation, we distributed ration kits to over 1600 people from our reporting area. The beneficiary list was prepared in consultation with the communities and prioritized single women, older women without family support, people with disabilities, and tribal communities. We also distributed health gear including face masks, hand-gloves, hand sanitizers, and ORS packets to 600 front-line workers who have been the backbone of our fight against Covid-19.
During the lockdown, sakhis reached out to the communities by making our information-sharing model more flexible and using phone calls and instant messaging platforms. Our robust network of sakhis, sangha members, Anganwadi workers, ASHAs5, and panchayat members ensured continued access to information on welfare schemes and processes in the villages.
The pandemic has made women's lives more precarious. Multiple lockdowns and the ensuing lack of access to livelihoods has not only exposed them to increased violence but also brought acute financial distress upon them, and restricted their mobility, making it difficult for them to seek help. To address this concern, the Namma Jaaga help desks offered counseling through phone calls and messaging. Para-counselors also leveraged their networks to help survivors seek legal support and find safer places such as women's hostels.
Plans for 2021-22
We have several new projects lined up for 2021-22. With support from the Ford Foundation, we will be conducting a new research project that aims to understand how local masculinities are shaped by sexism on social media platforms. Based on the findings of this study, we aim to build interactive pedagogies to initiate conversations on gender justice among men.
With a view to evaluate the effectiveness of our work so far of the Namma Maathu Namma Jaaga's redress mechanism and media strategies, we are keen to undertake an impact study. This will be supported by the ATE Chandra Foundation. Given how vital it is to engage men in the community as crucial stakeholders for driving change, we propose to deepen our interventions with them, especially elected male representatives and adolescent boys.