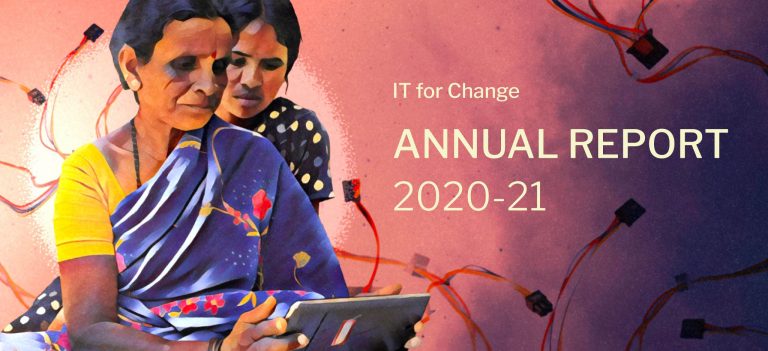 ICTs and Education
The Covid-19 pandemic exposed and accentuated the wide stratification in the Indian school system. Children from marginalized communities have been abandoned, with limited or no support from schools to tide through this crisis.

Against this backdrop, IT for Change's education team worked on two fronts in 2020-21. First, we designed and conducted workshops and courses for teachers from government and government-aided schools. These workshops and courses aimed to build teachers' abilities to use digital technologies for their own professional development and offer online education to their students. We supported teacher education institutions in offering their programs as online courses. We also conducted open online courses, and in-person camps and classes when schools were open, for students. We leveraged our experience in developing pedagogical models integrating digital technologies to support government school teachers and teacher educators to quickly adopt digital pedagogies to address the lockdown challenges.
Second, we consistently advocated with the Government of Karnataka to re-open schools carefully and in a phased manner. This was part of our work with the Vidyarthigala Nade, Shaleya Kade (Students Walk Towards Schools), a Karnataka-based coalition of parents' groups and civil society organizations.
Teacher Professional Development



To better navigate pandemic-induced school closures, teachers want to acquire the skills to adopt and adapt digital technologies in their classrooms.
Our programs for teachers, student teachers, and teacher educators focused on integrating digital technologies to enhance content and pedagogical knowledge. Our work here was in line with the Technological Pedagogical Content Knowledge Framework to create and share open educational resources, and support constructivist classroom engagement. In our courses, using technology is not an end in itself but a means to strengthen content and pedagogy processes in teaching.
Programs for Teacher Educators
We conducted a workshop on the Use of Technology and Open Educational Resources (OER) for e-Content Development for the faculty of the Karnataka State Open University (KSOU), Mysuru, in collaboration with the Commonwealth Educational Media Centre for Asia (CEMCA).Over 50 participants learned Free and Open-Source Software (FOSS) tools to access and create OER.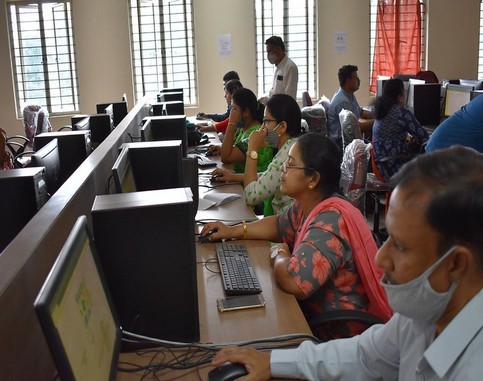 Programs for Teachers
We believe that FOSS creates a free and open learning environment, where teachers see themselves as active participants – installing and configuring software – and not just as users. This enables schools to maintain their labs without depending on vendors.
Lack of maintenance and support for in-house capabilities is an important reason for the failure of digital technology programs in schools. To help address this, we designed and conducted an online course on Digitally Enabling Schools for the computer teachers of the Karnataka Residential Educational Institutions Society (KREIS), which runs residential schools for children from marginalized communities. The teachers installed our custom Ubuntu software distribution on the schools' and their personal computers.
We conducted an online course for the mathematics teachers of Kendriya Vidyalaya Sanghatan (KVS) government schools using the Moodle Learning Management System for asynchronous learning and the BigBlueButton (BBB) webinar platform for synchronous sessions between the faculty and teachers. We conducted similar courses for mathematics teachers of the Zonal Institute of Education and Training (ZIET), Bhubaneshwar and, ZIET Mumbai. We also conducted an Audio Resource Creation Course on language teaching for KVS English Teachers. KVS teacher educators from ZIET Mumbai conducted their in-service teacher development courses on our platforms.
We introduced a series of courses on Information and Communications Technology (ICT) Integration in Teaching-Learning for high and middle school teachers of the Little Flower High School, Hyderabad, which serves children from marginalized communities. The course supported teachers in creating context-specific resources for their classrooms. 
Programs with Teacher Educator Institutions
Our association with the Regional Institute of English, South India (RIESI) grew stronger in 2020-21. We supported the RIESI faculty in conducting online versions of their Post Graduate Diploma in English Language Teaching (PGDELT) and six batches of the Certificate in English Language Teaching (CELT) course. We conducted an online program on Krashen's Hypotheses for second language acquisition, and an Audio Resource Creation course for these teachers.
For the first time, we offered a Massive Open Online Course (MOOC) on Teaching Technology with Mathematics with the Commonwealth of Learning (COL) for 1372 teachers across the world.
These teacher development programs were part of our Integrating Digital Technologies to Strengthen Public Education program, supported by Kotak Mahindra Bank CSR.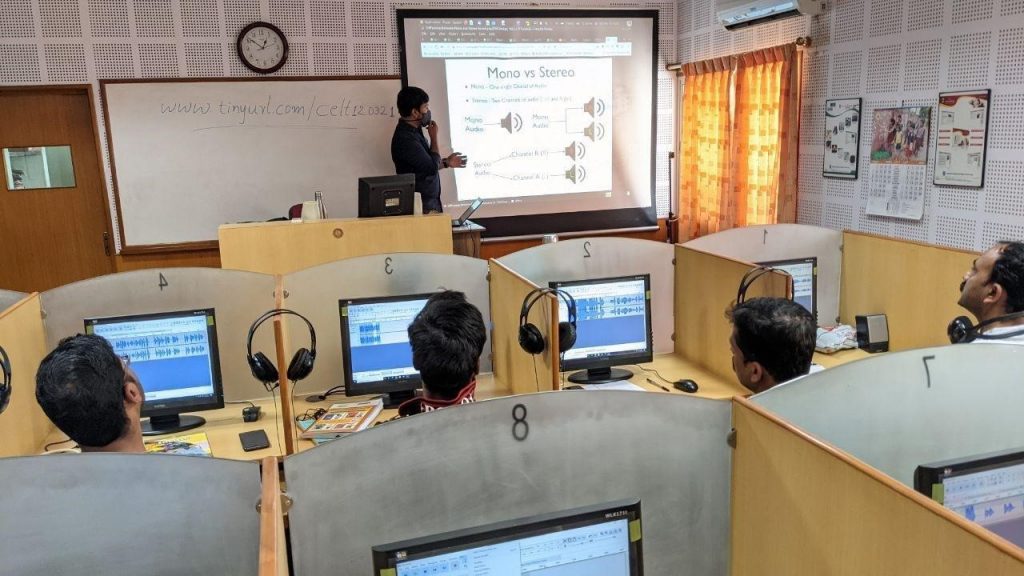 Our partnership with IT for Change has allowed us to successfully transact our teacher training programs as online courses. Their sessions and workshops for teacher professional development also contributed to the success of these programs. Our teachers found the online courses on the Moodle and Big Blue Button platforms useful. We truly appreciate the collaboration with IT for Change and seek their continued support in the future.
Programs for Pre-Service Teacher Education

As part of our collaboration with NMKRV College, we designed and conducted an ICT course for their four-year integrated B.Sc.-B.Ed. and B.A.-B.Ed programs. We also helped Sri Sarvajna College of Education (SSCE) offer their B.Ed. program online. Our ICT-Integrated Learning course was offered to the second and fourth semester B. Ed. students of SSCE and Vijaya Teachers College (VTC) and the Diploma in Education (D.Ed.) students of the Bharat Educational Society College (BES).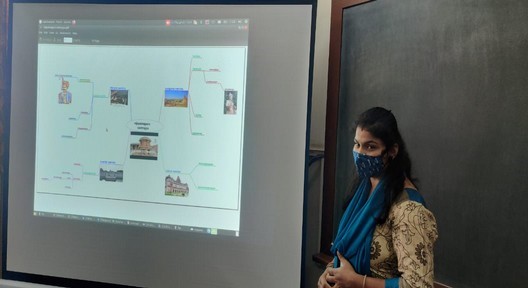 IT for Change's course on ICT integration in education offered insights into the future of education. The team also helped our student teachers contribute to OERs by supporting them in translating OERs from English into Kannada. Thank you for your support in ensuring that our faculty and future teachers are able to meaningfully integrate ICTs to make teaching-learning easy and interesting.
All our programs supported teacher educators, teachers, and student teachers in developing and sharing OER, which is crucial for imparting high quality and inexpensive education. The mathematics and English teachers we trained published their Geogebra resources and lessons on the Geogebra OER portal and audio OER on a SoundCloud repository, respectively. We also developed all our course materials as OER.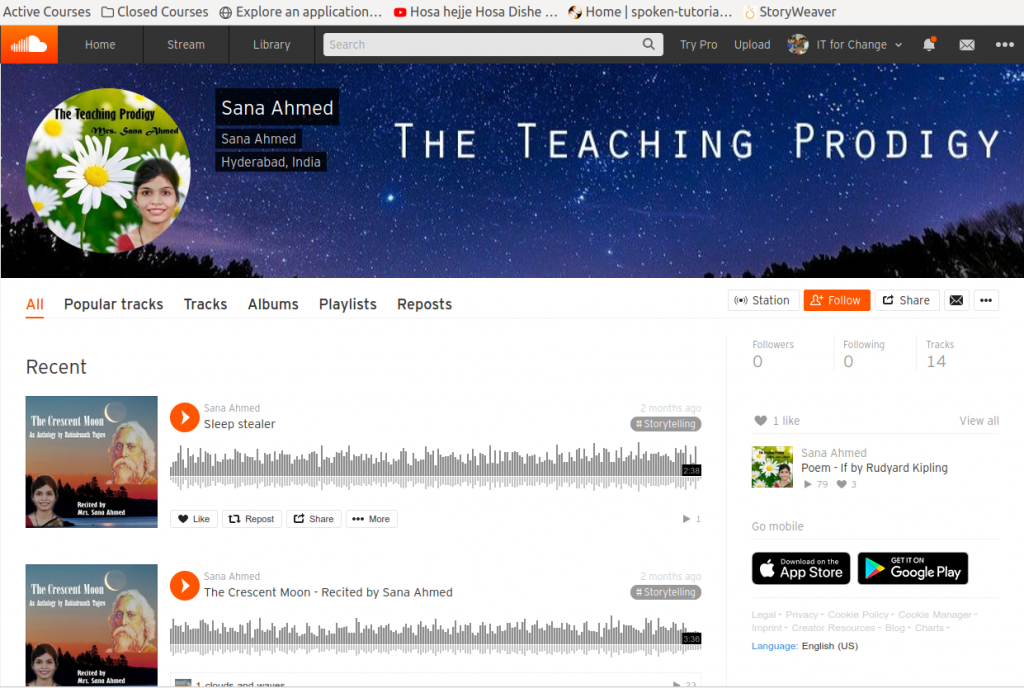 Teachers' Communities of Learning Program with Bengaluru Schools



We continued to engage with teachers from government and government-aided schools through the Teachers' Communities of Learning (TCoL) program in Bengaluru, supported by Cognizant Foundation. We conducted online classes for mathematics, social science, and English, in Kannada and English languages, for students from 11 schools. Over 100 teachers participated in our capacity building workshops to create digital resources and conduct online classes for their students at school and block levels.
We published over 1,000 resources pages on the Karnataka Open Educational Resources (KOER) – our online repository of OER for teachers to use while conducting online classes. These resources included a video series on using Geogebra for Mathematics teachers and audio resources for Kannada teaching.

We also organized back-to-school camps in multiple schools, which helped students who had missed school for months transition back into structured learning in an enjoyable manner. When schools re-open, such camps will be critical for ensuring student retention.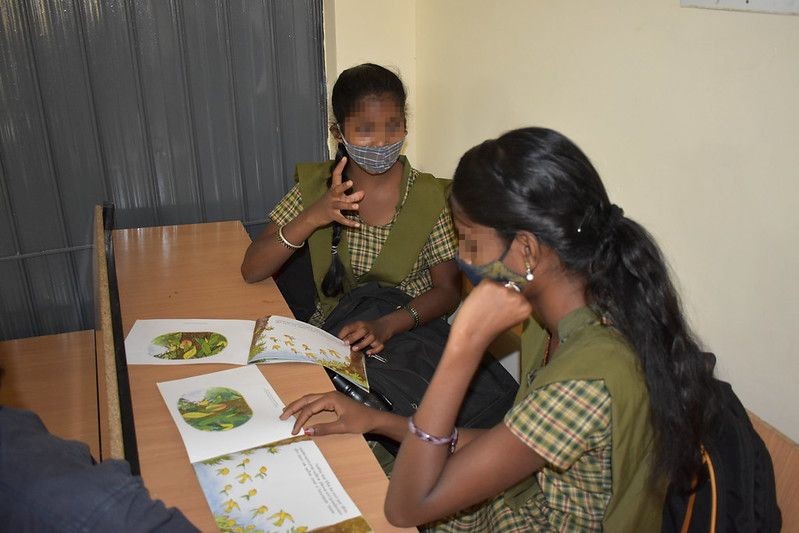 Adolescent Girls' Empowerment Program
Hosa Hejje Hosa Dishe – our adolescent girls' empowerment program, supported by British Telecom – aims to empower girls through an understanding of the gender-based risks they may face in the family, school, and society. Building development-oriented and responsive teaching communities that utilize digital technologies is a key component of this program.
Due to the pandemic-induced school closures, we explored different ways to develop a democratic learning intervention that every kishori (adolescent girl) could access and participate in. Our survey found that many families did not have access to smartphones. So, we launched a community radio program called Nan Voice, Nan Choice (My Voice, My Choice) in Bengaluru.
The radio program focuses on the various aspects of development among adolescent girls. It aims to help adolescent girls articulate their rights and desires, enabling them to make decisions for themselves through relevant information about skills, career prospects, and perspectives on gender and patriarchy. Through expert interviews and a serial fictional play with relatable characters for parents, the program uses a culturally-rooted aesthetic to gain traction.

Nan Voice Nan Choice was launched in November 2020, and the 40 episodes broadcast as of September 2021, can be found on YouTube. Since the show started broadcasting, we have noticed a gradual change among the adolescent girls we work with – they have started articulating their views on many issues.
We plan to upscale the audio materials from the radio program across Karnataka, and support other partners of British Telecom's adolescent girl empowerment program to design radio shows.
I really like listening to the Nan Voice Nan Choice radio show because it is a mix of speaking and music! I particularly enjoy the segment where we share our goals and discuss how we can achieve them.
When schools re-opened between January – March 2021, we conducted classes for students focusing on topics related to mathematics and developing digital skills. There is a general impression that girls are not as good as boys in Science, Technology, Engineering and mathematics (STEM) and our classes aimed to debunk this idea, while making learning mathematics effective and enjoyable. Interactive Voice Recognition System (IVRS) was used to regularly share messages with parents, and engage them in the online classes for their children.

We designed and conducted an online course on Gender Justice in Education for student teachers from SSCE and VTC colleges' B.Ed. Programs. The course aimed to help them reflect on issues of gender and patriarchy, how they manifest in their lives, and develop conceptual clarity about these issues.

During the lockdown, we identified families in need in Bengaluru and provided grocery kits to them, with support from various donors, including Cognizant Foundation.
Community-Supported Schools
As a part of our collaboration with the Foundation of Education, Ecology and Livelihood (FEEL), we worked in the tribal areas of Chittoor district in Andhra Pradesh to initiate appropriate technology integration in school and community education. We prepared text and audio resources in Telugu for managing Covid-19, introduced an arts and crafts program for children, and shared a toolkit on learning resources.
Advocacy
In 2020-21, we participated in the Vidyarthigale Nade, Shaleya Kade program, which aimed to create social awareness about the need to re-open schools.
We also participated in awareness events with other civil society organizations, and released statements to advocate for re-opening schools and providing rations to families.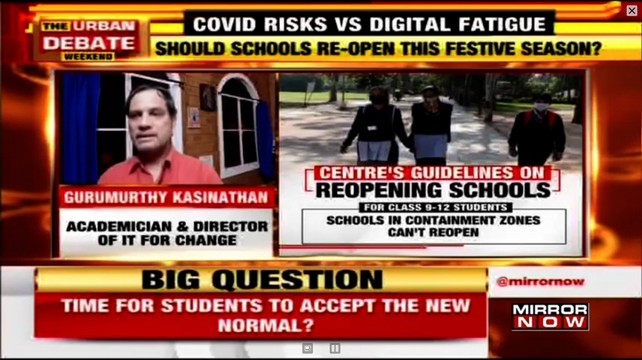 Publications and Events
Our research and publications continued to inform policy makers and other stakeholders about the need for equitable and humane education and the appropriate role for digital technologies in teacher and school education.
We also participated in numerous webinars and panel discussions on digital technologies and education, particularly with reference to the pandemic.
Impact
With the pandemic-induced school closures, we supported schools and teacher education institutions in providing digital education through effective pedagogical models. The teachers we worked with developed and published OER that can be used for digital education. We also supported student learning through online classes for high school students from government and government-aided schools.
We worked with 200+ students and conducted professional development programs for 848 student teachers and 1286 in-service teachers and teacher educators.
Thus, we were able to help students, teachers, and teacher educators from public institutions in mitigating the negative impact of school closure.
Plans for 2020-21
Considering the adverse impact of pandemic-induced school closures on children, we are building a National Coalition on the Education Emergency to work on resuming and renewing school education. This coalition aims to support teachers through resources and models of teaching that provide meaningful opportunities for student learning. It will also attempt to socially mobilize marginalized communities to demand empathetic and meaningful education for their children.
Even as digital technologies have started playing a more prominent role in education due to the pandemic, we plan to continue advocating for ICT integration in ways that strengthen teacher agency and support socially transformatory education for all children.
In the coming year, we will start working in Uttar Pradesh, Rajasthan, and Telangana. Teacher education programs for colleges in Karnataka are also being planned. Furthermore, we will work on capacity development of the District Institutes of Education and Training (DIET) faculty. With our existing partners, we will support government and government-aided schools and institutions in providing digital education opportunities to their learners.
The content being developed as a part of the Nan Voice, Nan Choice program has enormous potential to address the challenges posed by the pandemic to adolescent girls. We plan to design a program to disseminate these resources across Karnataka.