Digital Rights and Democracy
Exploring the intersections of digital rights debates with democratic politics, especially in post-colonial societies in the Global South, has been a constant focus of our research, advocacy, and field-building efforts. In times of data governmentality and the automated public sphere, building an inclusive democracy, which furthers citizens' voices and meaningful participation for those at the margins, is what we strive towards.
 Spoorthi – A spatial data system for the inclusive cities agenda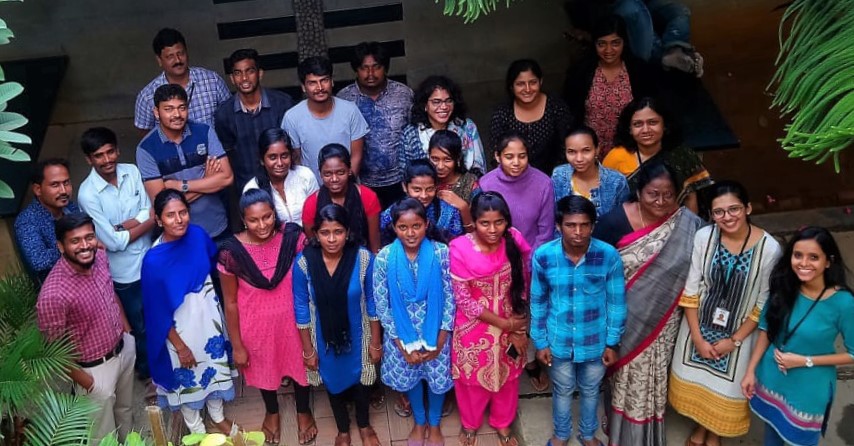 In 2019–20, IT for Change (ITfC) implemented the final phase of the action research project Spoorthi, supported by the United National Democracy Fund (UNDEF). The project seeks to build a proof-of-concept, community-based spatial data system for inclusive local governance in urban poor neighborhoods. It was implemented in east Bengaluru in partnership with the Association for Voluntary Action and Service (AVAS) and the Center for Study of Science, Technology and Policy (CSTEP).
In 2019, in partnership with our data stewards – a cohort of young women and men leaders who have been trained on digital literacy and basic data analytics – we set up a bilingual (Kannada and English), community-based spatial data platform to track community grievances pertaining to Water, Sanitation, and Access to Health (WASH) services.
Stewards from Spoorthi also organized a data campaign in November 2019 to map issues related to lack of drinking water supply. Through video testimonials and interviews, baseline data from the platform, and a validation survey exercise, stewards presented key water-related issues to the community at a forum. Residents were also invited to speak about these issues and discuss their experiences.
Stewards have also been able to take their engagement with the project forward in several other ways, exhibiting great leadership and drive. Especially as the project moved into March 2020 and a national lockdown on account of the Covid-19 pandemic was put into effect, some stewards utilized the skills learned through the project to organize and coordinate online to undertake relief measures in their communities.
As digitalization rolls out a new world '(dis)order', the power of digital platforms and their implications for people's lives and livelihoods cannot be ignored. Neither can the ignorance on the subject. That is why the work that IT for Change does on digital rights and democracy in a data-driven world is absolutely critical. Its analysis in bits and bytes breaks down the complex issue with unmatched clarity and commitment. It is THE voice to be heard to get it right and enable positive, transformative change.
Bot Populi
In June 2019, we set up Bot Populi, an alternative media outlet, in partnership with six other global organizations. Formally launched at the RightsCon Summit in Tunis, Bot Populi has been conceived of as a space to reframe human rights and social justice debates in the digital paradigm while foregrounding the missing Global South perspectives. Between June 2019 and March 2020, the project team published 37 contributions in the form of essays, interviews, and videos, including three themed issues on competition in the digital economy; agritech and platformization; and an ongoing Feminist Data Future series. As the world grappled with the Covid-19 pandemic, we started work on two themed issues that would keep alive the conversation on how this crisis could further authoritarian interests across the world.
I have had the opportunity to work with IT for Change since 2019. The organization has reached out to help with the efforts of app-based drivers and delivery partners to organize and pursue policy-level changes for improving their working conditions, securing labor rights, and ensuring decent work overall. I believe a collaborative endeavor of traditional trade unions/global union federations with organizations like IT for Change is necessary during these uncertain times.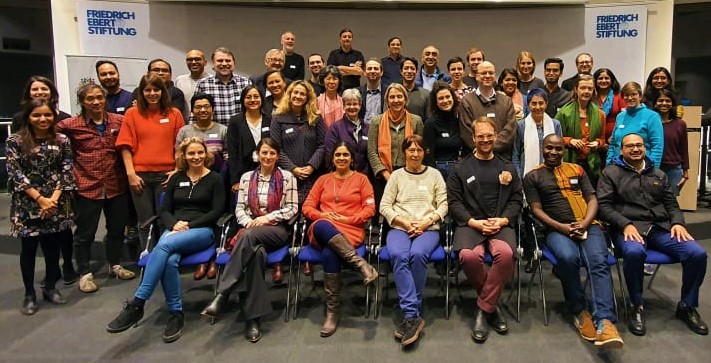 Advocacy and writing
In 2019, we continued to engage with the digital civic space in India by actively writing in the media and being part of key policy processes. ITfC engaged in depth with the Personal Data Protection Bill process. We developed and sent a submission to the Joint Parliamentary Committee on the Personal Data Protection Bill, 2019, which argued for broadening the scope of public interest claims in data, and safeguarding personal data from re-identification (in case of anonymized data) and executive overreach.
Over the year, our research team members wrote on topical issues such as content takedowns and political ad funding on social media. We contributed a chapter in an edited anthology of essays titled Communicating for Change, advocating for the idea of institutional learning as a way forward for deepening democracy and enhancing the sensibilities of state institutions to recognize diverse forms of claims-making. 
Critical forums at national and global levels
Some of our key engagements from the past year are as follows:
In May 2019, Nandini Chami was a panelist on Responsible Access to the Internet: Improving Digital Inclusion for All Participants at the Stockholm Internet Forum (SIF), organized by the Swedish International Development Agency (SIDA).

In June 2019, at the RightsCon Summit, Deepti Bharthur spoke at a panel on Defining Meaningful Access: An Expanded Approach to Connectivity, organized by the Alliance for Affordable Internet. She also participated in a panel on Network Propaganda in a Comparative Perspective: A South-North Dialogue about Democracy, Privacy and Free Speech, organized by ITS Rio and InternetLab.

At the same event, Ira Anjali Anwar spoke at a session on Ending Impunity for Online Violence Against Women in Politics, organized by the International Foundation for Electoral Systems (IFES) and the Carter Center.

In November 2019, Nandini Chami spoke at a panel on Inclusion and Legitimacy in Multistakeholderism at ICANN at the Internet Governance Forum (IGF) in Berlin.

In February 2020, Sarada Mahesh and Gautham G. from the Spoorthi project made a presentation on the role of community-led data and design for Whose Street is it, Anyway?, at a Design Dialogue organized in Bengaluru.

In the same month, Anita Gurumurthy was a panelist at a day-long conference on Internet Governance in India: People, Purpose and Process, organized by the Indian Council for Research on International Economic Relations (ICRIER) with support from the Ministry of Electronics and Information Technology (MeitY). This paper was written as part of the consultation process.

Finally, in February, Anita Gurumurthy participated in a capacity building workshop in Colombo, Sri Lanka for activists, researchers, and social movements on digital economy and society, where she focused on key concepts such as data governance, Big Tech, the changing nature of the state and gender, and online violence.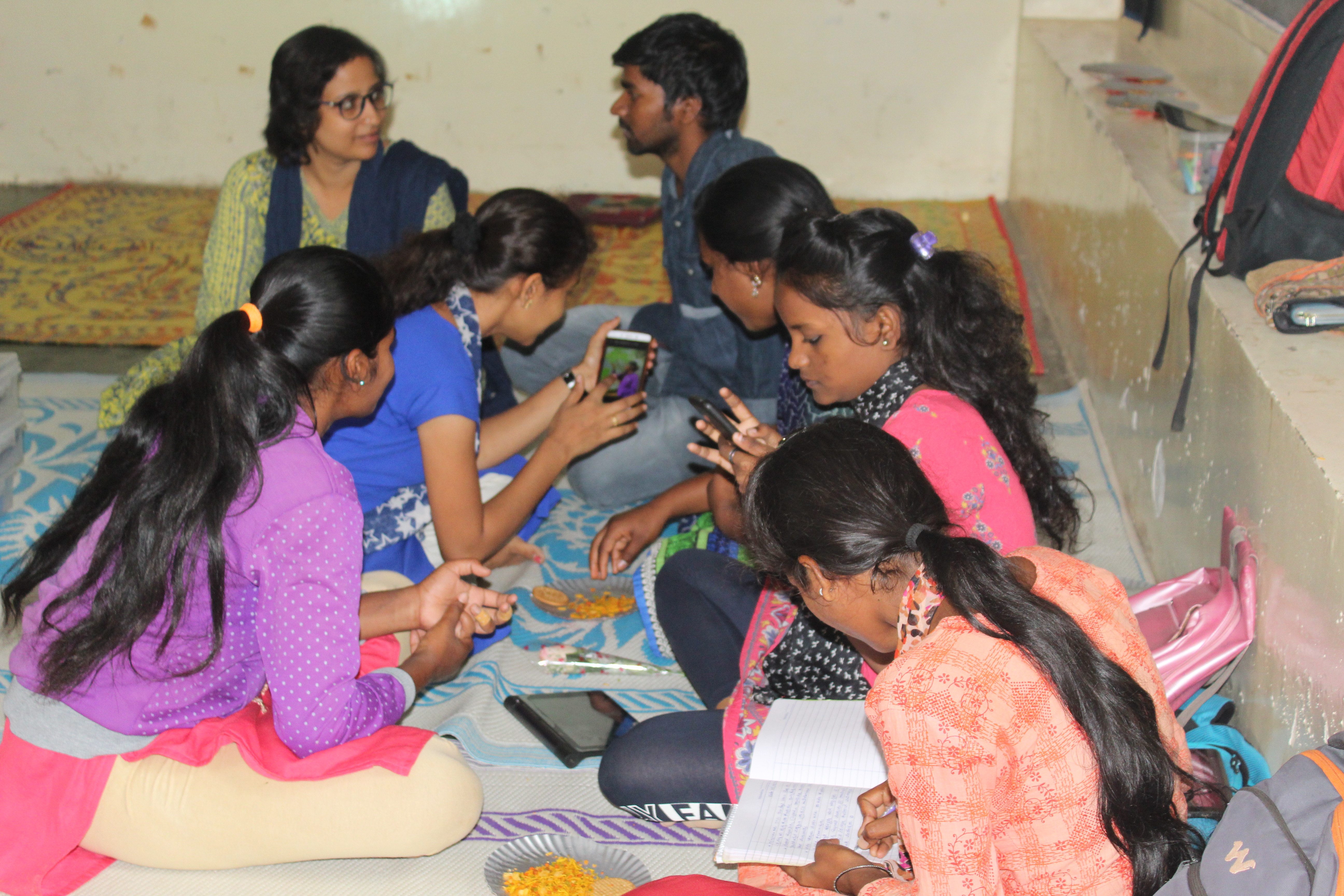 Impact
The impact of our work in the domain of digital rights and democracy was reflected in many ways. A significant achievement of our action research project, Spoorthi, was an API-based linkage of our spatial data platform with the Bangalore Water Supply and Sewerage Board (BWSSB). Complaints from the community, collected on the pilot data platform, were directly reflected in the BWSSB's grievance system through this linkage. While the grievance filing itself had to be put on hold due to the pandemic, the linkage of a community data platform with official channels of grievance redressal can potentially strengthen citizens' claims to services and generate intelligence and data that directly speak to the community's context.
The data campaign conducted by the stewards on the issue of drinking water supply also prompted action by officials of the BWSSB, who subsequently visited the community to explore the process of connecting its water lines to the main supply. Additionally, Spoorthi has been incredibly successful in bringing together a cohort of young leaders, who, with an arsenal of digital tools and literacy at their disposal, have been able to hone their leadership skills and work with local governance systems beyond the scope of the project. Stewards have adapted the methods learned during the course of the project to undertake other data exercises. During the lockdown, stewards from the neighborhood of MRS Palya replicated the strategies of the data campaign on water supply to document the condition of main water lines and taps in their own neighborhood and generate data to advocate with the BWSSB for initiating repairs.
In the global space, our magazine Bot Populi has, in a short time, defined itself as important space of engagement for those interested in issues of digital justice. Since its launch, the number of unique visitors on the site has been rising steadily, standing at 5,011 as of March 2020. The total number of visitors stood at 14,908. Of these, 85 percent were new visitors, reflecting the platform's growing readership.
IT for Change is our go-to partner when it comes to digital rights and democracy. Its global expertise, grounded in Southern experience along with a strong feminist bent, is greatly valued. With the Covid-19 crisis accelerating digitization while democratic safeguards lag and the digital divide yawns wide, IT for Change can help us all understand what is at stake and what action is needed.
Plans for 2020-21
In 2020-21, ITfC will kick start a new line of work focused on AI and its intersection with citizenship in India. With support from International Development Research Center (IDRC), our research will unpack and articulate progressive frames for data and algorithmic governance in state-citizen engagement, focusing on issues such as welfare automation, AI in public health programs, law enforcement, data infrastructure projects, etc. We will produce research papers and input into key national legislative processes as part of this project.
We will also continue the work done under Spoorthi through new sources of funding. We have already received some preliminary interest on this, and will look to expand the scope of the project to new communities and areas.
With Bot Populi, we expect to expand our readership base by keeping the content pipeline active in the coming months. Commitments made as part of ITfC's project grants in 2020-21 are expected to yield a number of long-form essays, think pieces, investigative and analytical articles, and multi-media stories in the coming year. These outputs will support and help develop three tracks in particular: Big Tech Watch, New Precariat, and Feminist Observatory of the Digital.
IT for Change's work has been key to understanding the times we live in and how to face the future. The speed at which the digital economy is evolving often leaves us unable to think clearly about the underlying economic processes. In these debates, not only is democracy at stake, but also the digital industrialization of peripheral countries. IT for Change is a beacon to refer to, in the midst of this digital storm, in order to think and strategize for years to come.