Data and the Digital Economy
Our policy research and advocacy efforts in relation to the digital economy have focused on identifying appropriate directions for the governance of platforms, data, and AI technologies from the standpoint of equity and social justice. In global and national policy dialogues, we have consistently articulated the rights of marginalized people and groups in the rapidly platformizing and datafying economy, underscoring the linkages between data justice and the right to development.
Research
Concluding our multi-country project on the platform economy
In 2019-20, IT for Change (ITfC) concluded the final phase of its multi-country research project, Policy Frameworks for Digital Platforms. This project, supported by the International Development Research Centre (IDRC), Canada, has been able to provide a first-of-its-kind, development-focused perspective on platformization, foregrounding a Global South outlook and drawing from examples, illustrations, and models that do not always make their way into the mainstream discourse. The synthesis report and other outputs from this project have been well received by various academic communities and policy circles.
In an end-of-project national workshop convened in New Delhi in August 2019, we were able to bring together key players and stakeholders from the digital rights and policy community, social movements, unions, governments, lawyers, as well as the private sector in India. The former secretary of the Department of Telecommunications (DoT) referred to our meeting as a first-of-its-kind dialogue and was keen that our insights be taken on board by the IT and telecom departments.
Other research on platformization
The positive buzz around our global platform economy project also opened up a slew of new research opportunities for us to extend our work in this domain. In July 2019, we were invited, and subsequently chosen, to author a report on the trends and impacts of platform models in the tourism sector in India by TourismWatch, a special desk of Bread for the World. The report was released at the cusp of the Covid-19 pandemic in March 2020, a time when global travel had come under greater scrutiny. It not only provides an intricate and deep-dive analysis into the invisible but paradigmatic shifts of platformization that are unfolding in the tourism sector, but also advocates for smaller and sustainable models of digitally-aided tourism. An India–specific policy brief, which was released for small and medium tourism enterprises, has been well received and utilized by industry bodies in their advocacy with the government.
In September 2019, ITfC was also chosen for a research project for the International Labour Organization (ILO) involving a mapping of alternative models of platform organization, focusing on workers in on-demand work, micro-work, and e-commerce platforms. The (forthcoming) report provides a sharp and incisive analysis into the changing nature of work in the context of the platform economy and points to the need for a new agenda for labor in a post-Covid world – one that centers workers' rights to data.

We were invited to contribute to the Transnational Institute's State of Power series, for which we developed an essay titled The Intelligent Corporation: Data and the Digital Economy.
Although I have known of IT for Change and its work for close to two decades, it was only last year that I got to work directly with them. The committed team of women with whom I worked were strategic in their approach with strong grasp of issues pertaining to technological change and workers' rights. I enjoyed working with this motivated, hardworking and highly skilled group of researchers and activists and I would not hesitate to join forces with them again.
Participation in the Data Governance Network
As part of the Data Governance Network (DGN), a two-year, India-focused research initiative helmed by the IDFC Institute, ITfC team members engaged in conceptual research work that explored economic rights, especially collective rights, to data. During 2019-20, we produced multiple research outputs, including a paper on Data and Digital Intelligence Commons, which examined collective data rights of communities and expanded on the term 'community data' being employed in Indian policy documents. A policy brief based on this paper outlined a framework law to establish community data ownership and use it as a basis for mandating data sharing where required. In Breaking up Big Tech: Separation of its Data, Cloud and Intelligence Layers, we analyzed the limitations of current efforts to regulate the power of Big Tech and proposed a new digital economy-centred regulatory paradigm.
As part of this project, in December 2019, we organized a roundtable at the National Law School of India University (NLSIU), Bangalore. The event brought together over 40 actors from various backgrounds and fields, ranging from technologists, policymakers, legal scholars, and students. The keynote address was made by Prof. Dr. Sudhir Krishnaswamy, Vice Chancellor, NLSIU.
IT for Change has taken a pioneering role in formulating a progressive agenda of what digital justice could look like globally. With its impressive conceptual work on community data rights and data commons, IT for Change has greatly contributed to the international debate on the future architecture of data governance.
Concluding our series on AI and Development
Recognizing that the governance of AI technologies is the next frontier of the data debates, with support from Friedrich-Ebert-Stiftung (FES) India, we published a set of research papers scoping the outlook for AI in India – moving beyond a liberal framing of human rights in AI governance to an expansive reflection on the interrelated impacts of AI on civic-political rights, socio-economic rights, and the right to development. These papers – spanning sectors such as education, fintech, agriculture, ports and logistics, and global governance – were released in 2019 as part of FES India's research series on AI in India.
Advocacy
Engaging on data governance in national policy debates
Over the year we engaged extensively with civil society groups and movements as well as the industry in India, on why economic rights to data should matter to them. We co-convened two consultations: one on e-commerce with major trade unions in India and another on data issues with the global trade union Public Services International (PSI). We also co-convened data-related meetings and meeting tracks with groups advocating for trade justice in India, including those working with traders, farmers, and workers. Our work in mobilizing civil society groups against the Regional Comprehensive Economic Partnership (RCEP) played a part in India opting out of the Free Trade Agreement (FTA), signaling a win for many farmers' and traders' groups.
IT for Change's deep expertise on the digital economy in general and the complex concept of "data" in particular, has been extremely useful in shaping our understanding and positioning on e-commerce negotiations in the area of trade negotiations, both in the WTO and RCEP. Their knowledge of technical issues combined with a deep understanding of the political dynamics of the digital economy gives IT for Change a unique perspective that is very valuable for development organizations such as ours.
In September 2019, ITfC was invited to be part of the new high-level committee on non-personal data helmed by the Ministry of Electronics Information and Technology (MeitY), which will be bringing out a report on non-personal data in 2020, to serve as a springboard for deliberating legislation on the regulation of such data.
In addition to these efforts, we have consistently written in the media on the need for economic and collective rights to data. Articles and interviews by team members have been carried in mainstream media outlets including the Hindustan Times, The Hindu, The Wire, as well as alternative spaces such as Himal Southasian.
Making a dent in global data governance spaces
In 2019-2020, we attained greater momentum in our work on digital justice through critical research and advocacy efforts. For the UNCTAD Digital Economy Report, 2019, ITfC contributed a background paper on the role of data, which was instrumental in shaping the report's views on collective approaches to data. In July 2019, we were part of a panel put together to mark the India release of this report, where the head of the UNCTAD Digital Economy Report team acknowledged the organization's key role in conceptualizing the economic role and value of data.
We also took forward our work on labor rights in the digital economy. We were invited to address the Asia Pacific Regional five-yearly assembly of PSI in Bali in September 2019 and were the only external organization invited to the PSI executive members meeting in Geneva in January 2020.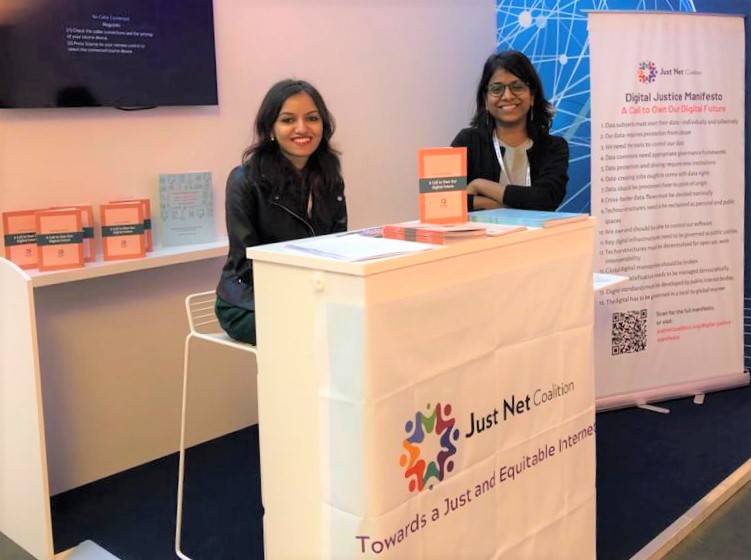 In November 2019, on behalf of the Just Net Coalition (JNC), ITfC co-hosted a global meeting in New Delhi, which saw participation from a range of civil society actors interested in trade issues. This was to prepare for the World Trade Organization (WTO) ministerial which was scheduled for June 2020 (and was subsequently canceled on account of the pandemic).
Building on the engagements and discussions of a two-day global strategy workshop convened in Bangkok in March 2019, JNC worked on and developed the Digital Justice Manifesto, a policy document articulating principles for an equitable and just digital economy. The manifesto was formally unveiled at a pre-event of the International Governance Forum (IGF) in Berlin in November.
Ahead of the launch of the manifesto, we organized an international workshop titled Data and Digital Intelligence as People's Resources: Reclaiming Freedom and Control in a Data-Based Society on November 23-24, 2019 in Berlin. Supported by FES and Bread for the World, this meeting sought to connect a global network of actors committed to equity and social justice, to discuss how these values could be imbibed into future strategies for global data governance, especially with regard to the regulation of data as an economic resource.
An important outcome of the two-day global strategy meeting was the setting up of working groups addressing various themes such as e-commerce and trade, agroecology, health, labor rights, etc., which will coordinate and collaborate on research and advocacy strategies to take forward the agendas arrived upon at the meeting.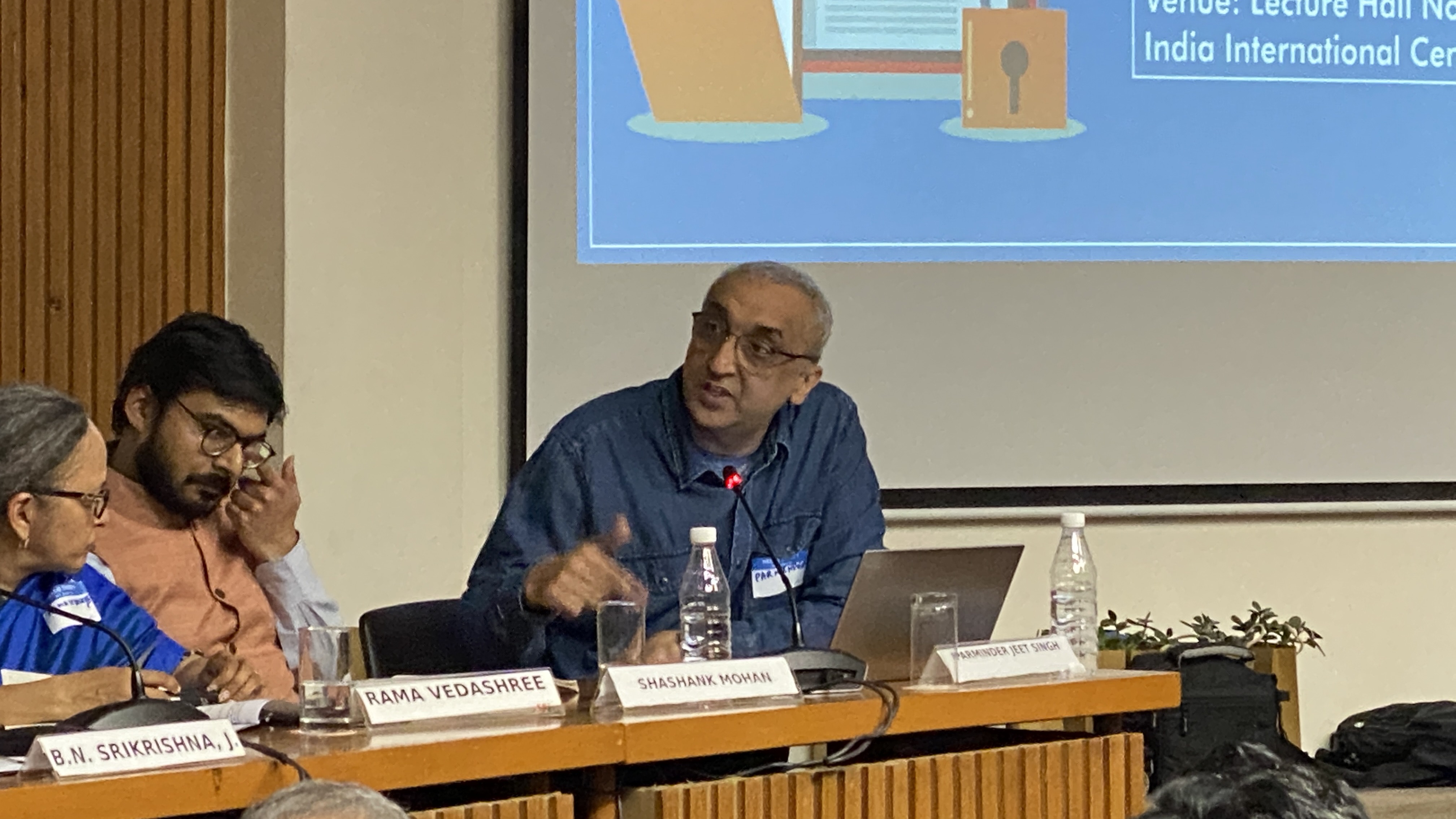 Critical national and global forums
Members of ITfC organized, participated, and made their voices heard at a number of events this year at the national and global levels.
We organized a satellite event titled, What Do Social Movements Need to Do in the Age of Data? Towards a Digital Justice Manifesto, at Rights Con 2019.

In June 2019, Parminder Jeet Singh was invited to give the keynote speech at the ILO meeting of delegates on Decent Work in the Digital Age.

In June 2019, Anita Gurumurthy attended a strategy event organized by the Transnational Institute in the Netherlands, where she spoke about Surveillance Capitalism and Digital Futures.

In September 2019, Anita Gurumurthy was invited to attend a civil society organizations' (CSO) strategy convening on Built for Purpose: Charting the Future of Asia's Civil Society in Transformative Times, organized by the Rockefeller Foundation and Ford Foundation at the Rockefeller Bellagio Centre.

In October 2019, at the WTO Public Forum, the organization's representatives were part of a panel on Value Creation and Capture in a Digital Economy, hosted by the UNCTAD.

In November 2019, at the IGF Berlin, we organized A Tutorial on Public Policy Essentials of Data Governance.

In January 2020, we attended a meeting on health data issues with respect to WHO's Digital Health Strategy, organized by the Public Health Movement in Geneva.

In February 2020, Parminder Jeet Singh was a co-panelist, along with Justice (Retd.) Srikrishna, on a discussion on the Personal Data Protection Bill, 2019, organized by the Software Freedom Law Center (SFLC).

In January 2020, Anita Gurumurthy was on the panel titled Data Governance at Crossroads at the Public Policy Forum and Public Policy LITFest organized by the SKOCH Group.

In February 2020, Anita Gurumurthy delivered a keynote at a conference on Artificial Intelligence, Ethics and Society in New York City, organized by the Association for Advancement of Artificial Intelligence (AAAI) and Association for Computing Machinery (ACM).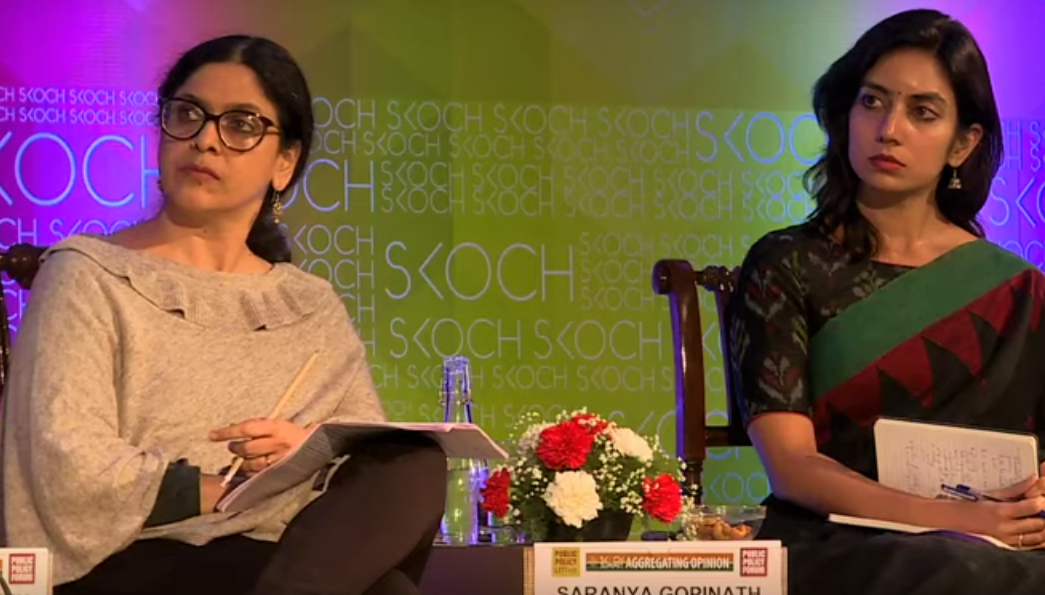 Impact
Our research and advocacy work in the domain of data governance and the digital economy continued to make its mark in critical policy spaces and platforms, as well as with key stakeholders and actors.
The impact of our research on the platform economy and economic rights to data is reflected in the translations (Spanish and French) undertaken pro bono by different organizations; requests from multilateral agencies for further research; requests by Foundations like Rockefeller and Ford for capacity building of their grantees; and attention from policymakers and trade negotiators across the Global South.
For instance, following a presentation of our research at our national workshop in New Delhi, we were invited to be part of the MeitY's new committee on non-personal data. Additionally, WTO Ambassadors of two major developing countries have sought ITfC's support in developing a framework for economic governance of data. Our work on data commons has fed into and shaped the approaches of major organizations such as Foundation Botnar and the Public Health Movement on data issues in health. We have been brought on a six-member Data Policy Circle of the global Universal Health Coverage Coalition to develop recommendations for health data governance.
Another significant impact of our work has been in the area of labor. We have been able to embark on new lines of research and advocacy collaboration in engaging with international unions such as the International Transport Workers Federation (ITF), UniGlobal Trade Union, PSI, and International Trade Union Confederation (ITUC). Our work has considerably influenced how global union federations have begun to see data rights of workers – not only in terms of privacy and surveillance, but also in terms of economic rights to data. PSI has invited us to extend our framework to specific sectors such as education, health, and welfare service delivery.
IT for Change has provided invaluable expertise and advice to PSI on the effects of digitalization, Big Data and Artificial Intelligence and the consequences for public services and workers. More importantly, IT for Change is interested in helping workers get real control over their digital and work lives. They are genuine partners with workers organizations, always keen to listen and understand and look for where we can together make the biggest difference.
In academia, learnings from our research have traveled far and wide and resonated with various communities of stakeholders. At the national level, ITfC has had an opportunity to strengthen ties with the Indian academia and institutions such as IIT-Bombay and Azim Premji University and expose students and faculty to the cutting edge issues in the global political economy of data and the digital. Internationally, members of the project team have been invited to participate in virtual presentations to the International Association for Media and Communication Research (IAMCR) as well as classroom lectures and webinars, including to students of global political economy at Simon Fraser University and the University of Toronto. Our platform project synthesis report has been included as required reading for a forthcoming course in the University of Toronto.
We have also delivered keynote addresses and talks at various international conferences where learnings from our research projects have been welcomed and shared. Notably, one of our papers, Economic Rights Over Data, published in the Development journal, was featured in the Syllabus, a weekly set of curated articles anchored by Evgeny Morozov, one of the foremost thinkers, globally, on data issues. The article also appeared in the year-end selection of the Syllabus' recommended readings for 2019.
IT for Change's research and advocacy bring unique perspectives rooted in justice and individual and community rights. We appreciate their approach to evidence-based policy interventions in moving towards an equitable data economy. I wish them the best and look forward to our continued collaboration.
Plans for 2020-21
In 2020-21, we will embark on exciting new projects that build and strengthen our current research and advocacy footprint. On the heels of our platform economy research, we have been awarded new grants to further our work in this domain by the Omidyar Network, as well as by IDRC for an action research project on gender and the future of work. As part of DGN, we plan to undertake research on topics such as the constitutional basis of data sharing, governance of non-personal data, community and local ownership of health data, and workers' data rights. Building on the workshops organized in 2019, in the year ahead, we will also be setting up working groups to develop strategy papers and advocacy plans for JNC's overall strategy.
Our work in the coming year will tackle the Covid-19 context and use this moment of flux to think of a new direction for the digital economy. ITfC will seek to engage progressive actors in an exercise to construct alternative digital frameworks, pathways, and institutional arrangements for a post-Covid world.
It has been a privilege for the ETC Group to work with, learn from, and fight together with colleagues at IT for Change on digital rights and global governance of technology. We are very impressed by the brilliant minds that make up the organization, inspired by their commitment, and awed by their willingness to collaborate. We look forward to continue linking arms with you in unmasking the challenges ahead in this brave new world and towards creating a saner, fairer, and kinder future.