Advocacy
From IT for Change's Annual Report for 2013-14
IT for Change has continued its advocacy efforts in influencing the directions of Internet, ICT and sectoral policy and programming frameworks: at the global and national level.
Influencing national 'ICTs in Education' policy frameworks
NCTE Committee to implement Justice Verma Commission report
"The Justice Verma Committee constituted by the Hon'ble Supremem Court of India has made a strong recommendation for use of technology and open learning systems for periodic training of teachers to meet their need for regular knowledge upgradation. It is in this context that IT for Change needs to be congratulated for being one of the few agencies who are able to actually demonstrate an effective and systemic model of setting up a virtual community of teachers, not only as learners but also as self creators of resources, in a public public partnership mode."

- Prof Venita Kaul, Ambedkar University, New Delhi
As a member, IT for Change participated in the Committee constituted by
NCTE
to deliberate on Recommendations 8 and 12 of the
Justice Verma Commission report
. Recommendation No 8 is that "the first professional degree in Teacher Education be only face to face mode", and recommendation 12 is "Faculty programmes needs to be institutionalized for professional development". Incorporating our suggestions, the
report of this committee
emphasises the need for 'blended learning' to be the default mode for teacher education, moving beyond the silos of 'face to face learning' and 'open distance learning' that is prevalent currently.
IT for Change participated in UNESCO International Meeting on ICT for Quality Education in Chengdu, China and contributed to the discussion on enhancing teacher's capacity in the use of ICTs. ITfC also participated and provided inputs to the the 'State consultation on School leadership development, organised by National Centre for School Leadership (NCSL), NUEPA and Karnataka SSA. ITfC provided inputs to Haryana Education department on replacing proprietary software with public software in their NVEQF curriculum (for vocational education of high school students). Finally, member(s) of ITfC team are part of Regional Institute of Education (RIE), Bhopal Governing Council, and of the National Resource Group (NRG) for ICT and Education, CIET, NCERT.
ICT integration into curriculum
IT for Change continued to contribute significantly to curriculum design and development at the state and the national level.
DSERT has revised the DEd. (Diploma in Education) curriculum during 2013-14 and ITfC contributed to the paper on 'ICT Mediation in teaching learning', which covered the integration of ICTs into subject teaching for the pre-service programme. In the preparation of the Master Trainer for the revised curriculum, ITfC conducted training on ICT integration using public educational software applications for around 100 teacher educators (from DIETs and aided/unaided TTEs) in collaboration with the RV Educational Consortium.
ITfC was a member of the National ICT curriculum core groups setup by CIET, NCERT and also participated in design discussions for the National Repository of Open Educational Resources.
ITfC provided inputs to the design of model curriculum for ICT and education course for NCTE
ITfC supported the introduction of public software applications in the NVEQF program, by replacing proprietary office suite with LibreOffice suite in the text books used in the program in Haryana. LibreOffice suite is being used by teachers in the STF program in Karnataka, as a part of the custom Ubuntu GNU/Linux distribution shared freely with them, by the program.
The role of the Prakriye field centre in our advocacy efforts
Global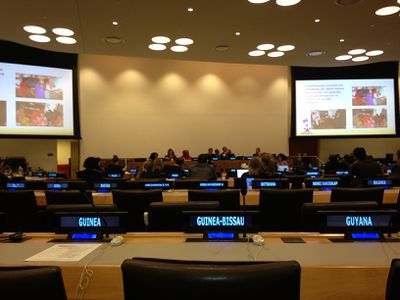 In March 2014, Anupama Suresh, Senior Project Associate, participated in PWESCR's
4th Annual Leadership Institute
in Women's Economic, Social and Cultural Rights. The Institute which brought together women's rights participants from 15 countries across South Asia, East Asia, and Africa focused on the question of effectively using global human rights frameworks to address context-specific experiences of marginality and gender discrimination.
In September 2013, as a grantee of the UN Women Fund for Gender Equality, IT for Change was invited to make a remote presentation on the work of the field centre Prakriye with elected women representatives and women's collectives, at the Fund's internal strategy meeting on the role of ICT in promoting gender equality and women's empowerment.
National
In November 2013, IT for Change was invited by the UN Women Fund for Gender Equality to a Partners' Meet in New Delhi, which aimed at developing a shared research, programme and advocacy agenda on women's economic rights and security. Bulding on the experiential insights emerging from the work of its field centre Prakriye, IT for Change made a presentation arguing for the need to have ICT-enabled information centres at the community level that could facilitate marginalised women's access to public information and entitlements, including social security benefits, based on insights from the work of the field centre.
Between 2013-14, as part of the 'Making Women's Voices and Votes Count' project, Prakriye has also functioned as a resource centre on techno-social strategies for the teams of the partnering organisations -- Kutch Mahila Vikas Sanghathan and ANANDI.
Local
Prakriye has been networking with MYRADA, an established development organisation in Mysore which also runs community information centres at the field level, to exchange learnings and insights from each model. Further, Prakriye has entered into a partnership with Prerna, a Mysore-based NGO that works on health issues, to organise reproductive health awareness campaigns in the project area, establishing linkages with government health extension workers and the public health care system.
Influencing the gender and ICTs discourse
Bringing the information society perspective into feminist dialogue and gendering the mainstream 'ICTs and development' discourse continue to be key focus areas of our advocacy efforts at global and national levels. Additionally, we have focused on shaping the ongoing debates and discussions around the post-2015 development agenda.

Global

Anita Gurumurthy, Executive Director, IT for Change, has been nominated to the Working Group on Broadband and Gender of the ITU/UNESCO Broadband Commission on Digital Development, chaired by UNDP. She has been active in the 'Access' and 'e-skills' workstreams constituted by the Working Group on Broadband and Gender. In particular,she has focused on pushing the boundaries of the 'Access' discourse, so that the 'meaningful access' agenda is not reduced merely to that of 'affordability'.
Anita Gurumurthy is also a part of the Advisory Group of Ending VAW: Research on Legal Remedies and Corporate Policies - a global programme of APC, supported by the Dutch Government's FLOW Fund.
Anita Gurumurthy was invited to be a part of the Gender Review Group of SciDev.Net, an online global portal focusing on free news, views and analysis about science and technology in the developing world, in September 2013.
Anita Gurumurthy has been closely in dialogue with the Women's Major Group for the UN Open Working Group on Sustainable Development Goals(SDGs), urging for the inclusion of information society concerns in the SDG discussions. In December 2013, she submitted a note on 'ICT, information and data issues' to the Women's Major Group, urging for close attention to the agendas of: evolving a just and equitable global governance framework for the Internet, and creating alternative 'small' data paradigms in governance systems that give marginalised communities greater control over developmental decision-making processes, in lieu of dominant 'Big Data' paradigms that centralise power.
Nandini Chami, Senior Research Associate, IT for Change presented a paper as part of the Panel on 'Framing Development Justice', at the Asia Pacific Regional Consultation with Special Procedures Mandate Holders organised by the Asia Pacific Forum on Women, Law and Development between October 27-29 2013 in Dhaka, Bangladesh. Her paper focuses on the key concerns for development justice in the information age.
National

We were invited by the Second High Level Committee on Status of Women in India, in February 2014, to submit an input paper analysing key policy and programmatic concerns in the area of Digital Technologies and Gender Justice in India.

"As academics deeply interested in the social and cultural implications and impact of our work, we have found in IT for Change a partner that is equally committed to rigour at both the conceptual and implementation levels. Our faculty have benefited from workshops conducted by the organization, and we look forward to collaborating on research and training projects in the field."


- Usha Raman. Head, Department of Communication, Sarojini Naidu School of Arts & Communication, University of Hyderabad
Anita Gurumurthy participated in a panel arranged by UN Women on Gender and Infrastructure during the 8th Annual Conference on Public Policy and Management organized by the Center for Public Policy, at the Indian Institute of Management, Bangalore in August 2013. Her presentation critically examined the techno-infrastructural regime in the hyper-globalised world we inhabit, where the mainstream discourse on ICTs has led to the uncritical acceptance of the monopoly of private stakeholders over technology infrastructures as inevitable, even as it pays lip service to the rhetoric of 'universal access to ICTs'.

IT for Change was invited by the UN Women Office for Bhutan, India, Maldives and Sri Lanka, to the Preparatory Meeting for the 58th session of the Commission on the Status of Women (CSW), organised in December 2013. The objectives of the meeting were to identify key messages for the CSW, and reflect on the challenges and achievements in the implementation of the MDGS pertaining to women and girls, in order to inform ongoing deliberations around the post-2015 development agenda.
Critical engagement with current transformations in the Indian governance system
Workshop on 'Technology in governance - An agenda for centralisation, privatisation and depoliticisation?'
IT for Change, Mazdoor Kisan Shakti Sangathan and School for Democracy organised a one-day workshop on 'Technology in governance - An agenda for centralisation, privatisation and depoliticisation?' on the 20th of July 2013 in New Delhi at the India International Centre. The workshop aimed at evolving a socio-political critique of the far-reaching transformations that are being carried out at the heart of the Indian governance system, through the use of ICTs. The workshop was organised at a time when a slew of 'ICTs in governance' proposals had caught the imagination of the public: AADHAR-enabled Direct Beneficiary Transfers, electronic service delivery and centralisation of implementation aspects of governance by setting up apex special purpose 'governance' companies that would work from within concerned departments, but which would be privately owned. Participants, drawn from academia, government, and civil society organisations across the country, felt that this was the commencement of a very useful and necessary dialogue on ICTs, governance and democracy. There was a consensus for the need to place demands before the government for framing a national e-governance policy, that would approach the question of technology in governance from the standpoint of social justice and equity, rather than a narrow, efficiency-centred view-point.
Campaign against the Government of India's proposal to amend the Right to Information Act
IT for Change with CIVIC Bangalore, KRIA Katte, and Swami Vivekananda Youth Movement organised a camapign in August 2013, protesting the proposal of the Central government, to amend the Right to Information Act, with the intention of keeping political parties out of its ambit. This proposed amendment would have challenged the basic principle of the Act which is to maintain transparency and accountability by the government, including the processes of governance which determines functioning of the government.
Our effort, along with that of many other groups affiliated with the RTI movement across the country, met with some success -- the amendment has been kept in abeyance for now.
Inputs to the Framework on Open Source Software Adoption
IT for Change provided inputs to the e-Governance Standards Division, National Informatics Centre on "Framework on Open Source Software Adoption"
In the thick of the global Internet Governance debate
Internet Governance Forum in Bali, Indonesia
We were invited to various panels at the Internet Governance Forum (IGF), Bali, by various renowned global agencies like UNESCO and Brazilian Internet Steering Committee. Apart from these, we also spoke on panels on net neutrality, rights related issues and Multistakeholder participation. In all our submissions, including those to the plenary sessions, we highlighted the need for democratic Internet related public policy making, with an accent on equity and social justice.
IGF, Bali, was dominated by discussions on the proposed global IG meeting in Brazil (later named as NetMundial), which had begun to assume momentous proportions. IT for Change was in the forefront of civil discussion and positions regarding giving it an equal role in organising the meeting. We also networked closely with many government representatives on the issue of the proposed meeting, and its likely outcomes.
A new global progressive coalition

"IT for Change has played an important role in opening up spaces, especially in relation to Indian civil society, for debate on issues pertaining to technology and internet- such as justice, democracy and equity. It has also helped popularise the idea of internet as a commons and the need to democratise its governance. We appreciate their capacity building processes and hope to be involved with future processes."

- South Solidarity Initiative, ActionAid.
Building a progressive civil society coalition in the IG area has been an enormous challenge. Till quite recently, IG has been considered an entirely esoteric issue compared to life and death social and development challenges confronting civil society groups. Lately, even as there is a much better appreciation of the importance and severity of the issue, it is difficult for progressive actors, struggling against such immense odds on so many important fronts, to develop a sustained understanding of IG issues and undertaking the necessary advocacy. Meanwhile, the 'window of opportunity' to influence the formative structures of a new network or information society may close soon, as its basic techno-social structural elements will be set in stone, very difficult to confront and change subsequently.
Further, funding resources for progressive groups in this area are almost non existent. All resources gravitate to support positions where advocacy for freedom of expression makes little distinction between such human rights issues and the great and unrestrained urge of the US government and its monopolistic Internet corporation to ensure a free reign over the whole world for complete social, economic, cultural and political domination. Monopoly corporations are spending huge amounts to fund NGO activity and also collaborate with UN agencies to influence (distort) their agenda.A huge amount of western donor funds have lately poured into this area, which has gone either towards narrowly-motivated efforts in support of Northern hegemony or simplistic formulations which are very inadequate and can do more harm than good in this extremely complex space with great political economy implications. It can be considered surprising that in the midst on such a huge number of IG projects and programs there is almost none oriented to seeing the global Internet from a Southern perspective and focusing on social and economic rights.
IT for Change has always been an important player in global IG-related civil society space. One of IT for Change's members was the first elected coordinator of the Civil Society Internet Governance Caucus and we played an important role in shaping this Caucus' outputs in a period when it was most active. At present however, the IGC has become more or less defunct, as civil society in this area, has not been able to sustain a distinctive space and position that is different from what for instance big business advocates. In, 2012, IT for Change became a founding member of another loose group, BestBits, which as the name suggests, was supposed to pull together diverse civil society views whilst simultaneously aiming at clear purposive action. Despite making a good start in 2012, the management of the BestBits fell into driving it towards a narrow and partisan political agenda over 2013-14, with poor overall accountability to its members. Despite repeated requests, the management group, for instance, refused to reveal the respective sources of funding that supported their global IG activities. Such transparency is considered basic in most global civil society spaces, and it is odd that this is not the case as far as global IG related civil society is concerned.
In such difficult circumstances, with no funds at hand for this purpose, IT for Change kept pressing for pulling together a global coalition of organisations and individuals, which could be the progressive civil society front in this important space. Finally, with funding support from the National Internet Exchange of India (NIXI), Web We Want Initiative, ActionAid, Third World Network, and Software Freedom Law Centre, IT for Change, in partnership with Knowledge Commons, India, organised a global meeting titled 'Towards a Just and Equitable Internet' on February, 2014 . One of the main purposes of the meeting was to explore the formation of such a global coalition. Participants at the three day meeting decided to set up the Just Net Coalition. They formulated its organisational structure and rules, which were finalised post workshop over the coalition-elist. A set of founding principles in the form of the Delhi Declaration was also adopted. There are currently 33 organisational members and 49 individual members in the coalition. It has evoked much interest and many inquiries. Existing members comes from all continents, and involve major progressive groups active globally in areas like trade justice, communication rights, women's rights, access to knowledge, techie activism and so on.
"Working with IT for Change on several occasions over the past decade, has been a gratifying experience and a valuable contribution to our work. In particular, during this year, the Delhi meeting and subsequent work with the Just Net Coalition has offered us new openings for engaging with Internet governance, from a democracy and justice perspective, an issue which we are convinced is of increasing relevance and urgency globally. The leadership and commitment of IT for Change in this process has been a key factor in its success, as they have contributed insight from their experience and from their deep knowledge of the issues involved. It has also allowed us to build stronger South-South connections."

- Sally Burch, Executive Director, Agencia Latinoamericana de Información (ALAI) – Latin American Information Agency .
Within a few weeks and months of its launch, the
Just Net Coalition
is being recognised as a major global civil society group. With its clarity of norms, principles and objectives it has been able to effectively present positions and statements on all major global IG issues, which are increasingly being anticipated and taken note of with much interest. This is unlike other major global groupings, who remain embroiled in process issues – limited mostly to denying (mostly developing country) governments their legitimate public policy roles in this area.
Just Net Coalition
has developed positions in many areas right from the need for a global treaty on cyber peace and non aggression, and another against mass surveillance, to, how global governance of the Internet should be democratised, with clear institutional proposals. The
positions and statements produced by the Coalition can be seen here
.
The real challenge is to take the Coalition's membership down and across to grassroots activist groups in different areas, including techie activists, by concretising an identity and message that can pull together the aspirations of all those who want the new techno-structures to promote rather than subvert democracy, social justice and human rights.