Field Building
From IT for Change's Annual Report for 2013-14
National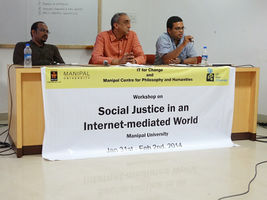 In early February,
Manipal Centre for Philosophy and Humanities
and IT for Change brought together a group of 25 interested thinkers committed to social change – researchers, activists, journalists, media practitioners, teachers, artists, bureaucrats and designers – in a 3 day workshop titled 'Social Justice in an internet-mediated World' that used different methodologies to debate and discuss perspectives on the theme 'Justice in the Network Society'. Some of the themes addressed along the course of the workshop are listed below:
1. The continuities and discontinuities of the technological paradigm in the global economy 2. The Internet, democratic flux and citizenship, 3. The place of media, culture and community in the space of flow Conversations and networks initiated during the workshop, have been sustained over various elists and google groups created for strengthening and expanding collective knowledges and discourse.



Global
Continuing the practice of the last many years, this reporting period too saw a group of postgraduate students and staff, from the fields of ICT4D and Human Resource Development, University of Manchester - Institute for Development Policy and Management - pay our Bangalore office a visit in January 2013, to gain a deeper understanding of the impact of ICTs on women's development.