Prakriye - Center for Community Informatics and Development
From ITfC Annual Report 2014-15
Making Women's Voices and Votes Count
Making Women's Voices and Votes Count (2013-2015), supported by UN Women Fund for Gender Equality, is a joint initiative of IT for Change, Kutch Mahila Vikas Sangathan and ANANDI, which has focused on leveraging the potential of digital technologies for building a vibrant women's political constituency at the grassroots and a gender-responsive local governance system, across three sites, in the states of Gujarat and Karnataka in India. IT for Change has provided conceptual leadership to the project, and its field centre Prakriye has spearheaded the implementation at the Mysore site. Kutch Mahila Vikas Sangathan and ANANDI have steered the implementation at Kutch and Bhavnagar, respectively. A detailed process documentation highlighting key insights and learnings from the two-year journey under Making Women's Voices and Votes Count was prepared. Please note that names of individuals and villages have been masked in the document, to protect confidentiality. You can access the final programme report of Making Women's Voices and Votes Count here. In addition, an external evaluation report was commissioned to Ms. Vandana Mahajan and Ms. Anita Ratnam, and in Feb-March 2015, IT for Change and Prakriye were mainly engaged in facilitating the external evaluation.
" IT for Change and Alliance for Right to ECD partnership in exploring an ICT enabled model for ECD gives us hope and innovative ways to strengthen demand for childcare services by creating empowered and informed communities."
-Sudeshna Sengupta. Senior Manager-Advocacy, Mobile Creches
The Prakriye field centre continued its efforts towards utilising ICT-enabled strategies for strengthening the leadership capacities of 56 elected women representatives and building their linkages with women's collectives at the local level, across 7 Gram Panchayats of Hunsur and H.D.Kote block in Mysore district, through the following strategies:
Utilising Community Media for Capacity-Building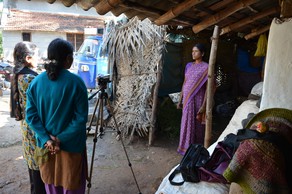 It for Change employed community media for capacity-building of elected women and elected men at the Panchayat level, specifically focusing on enhancing women's capacities to negotiate power-politics at the Panchayat level and establishing among elected men, the importance of supporting elected women's participation in formal local governance processes. Three films deserve special mention as they were the most widely-viewed and commented upon, as part of the Panchayat-level dialogue forums organised during this period– "Should women participate in the Panchayat?", "What I think is my role as an elected leader?" and "Women leaders in their multiple roles".
Strengthening linkages between EWRs and Women's Collectives
18 dialogic meetings between elected women and their women's constituencies & 12 Mahila Gram Sabhas were organised in the operational area, as a means of connecting elected women to women community leaders and bringing in women's individual and collective priorities into local governance decision-making. For more details on the ground-level changes ushered in by this strategy (such as enabling a woman successfully fight for her right to receiving allotments under a housing scheme, challenging irregularities in the allotment of subsidies under a rural sanitation programme and so on), see the film.
Between April-May 2015, field activities came to a stand-still as the Code of Conduct for the Gram Panchayat elections in Karnataka, had come into force. During this period, IT for Change and the Prakriye team were largely involved in providing inputs and support into the evaluation process; preparation of final programmatic reports; and planning for a meeting that would bring together outgoing and incoming elected women representatives, to enable them to share learnings and insights, after the new batch of elected women assumed office.
On 30 June 2015, after the results of the Gram Panchayat elections of April-May 2015 were announced, the IT for Change team organised an EWR experience-sharing forum at the district level, inviting the key women leaders (EWRs and others from the community) who had been active in the project, and the new batch of EWRs. This was envisaged as a step towards building a sense of community among women in local politics. The meeting was attended by 102 women, including outgoing and incoming elected women representatives across these 7 Panchayats, women community leaders who had contested and lost elections, and members of women's collectives who had participated actively in the project, and infomediaries. Participants stressed the need to build alliances with male Panchayat members and women in the community, to tackle the key issues and concerns that women and girls faced in their villages. Domestic violence, child marriage, and high drop-out rates among adolescent girls were identified as key problems. Finally, the women leaders who had been active in the project shared the advantages of utilising community media learning resources, GIS-enabled participatory mapping and IVR messaging systems in their work.
For us, the most affirming aspect of the event was that outgoing women leaders saw meaning in attending the meeting and sharing their thoughts with incoming elected women representatives. The meeting was meant only for women, and men were firmly told by a few attendees to stay out. Leaders from women's community based organisations were also invited. The intent of the meeting was to reinforce the need for EWRs and women community leaders to invest in a value-based model of feminist leadership, supporting one another at every opportunity. Outgoing women leaders who had been part of our community media based pedagogies met as a larger group, across Panchayats, for the first time. They listened to women who had just assumed office. They spoke about their own successes and failures. And most importantly, they seemed to understand what a women's space meant for the journey of empowerment. In an ice-breaker game that we had designed, women set aside caste norms to interact with other women in close physical proximity. As one woman community leader shared, "Even though I lost the Panchayat elections in my village, I came to the meeting as I felt we have a responsibility to work together". Similarly, an ex-EWR who attended the meeting, said: "After being part of all these discussions, I feel that in my term, I did not do enough… and there was too much corruption and not enough work. But please don't waste your opportunity, those of you who have come to power.. There are so many shared issues (that we women) can fight for".
Expansion of Information Centres
The information centres strategy was consolidated during this period – through the strengthening of the 2 existing block information centres and 3 cluster information centres; and the setting up of 2 information centres under 2 new models, as described below.
At the Thumbasoge Gram Panchayat, H.D.Kote block, an information centre has been set up within the Gram Panchayat, with a broad-based Managing Committee comprising representatives from local women's collectives of Stree Shakti scheme, elected women and elected male representatives of Panchayat, members of School Development and Management Committee, ASHA, and anganwadi worker.
At Kalihundi village in K.Belathur Gram Panchayat, H.D.Kote block, an information centre has been set up in an old building of the Department of Education that is currently being rented by the Milk Producers Cooperative Society and the anganwadi – with Managing Committee members drawn from representatives of local women's collectives of Stree Shakti scheme and Secretary of Milk Producers Cooperative society. These models are especially important in the current context where the Mahila Samakhya programme has withdrawn from Mysore district – because of which our field centre has had to intensively invest in forging relationships with other CBOS and women's collectives in the community, independent of the Mahila Samkahya partnership.
Techno-Social Innovations
The main techno-social innovations developed by the team, in this period, are summarised below:
A digital MIS for effective tracking of entitlement applications to closure was installed at the information centres, to enable the infomediaries to track their work, and to bring in more systemisation into their monthly planning processes.
An Open Source IVR system was set up, to enable the infomediaries to send targeted voice messages (pertaining to information on new schemes, public health alerts, agriculture and dairy-related information, reminders about dates of crucial citizen forums such as the Gram Sabha etc.) to women and men in the local community. This IVR system has also been used by the project team to send motivational messages to elected women representatives persuading them to attend Panchayat meetings; and for conducting a pre-election awareness campaign among voters (between Jan-March 2015, for the Gram Panchayat elections of April-May 2015).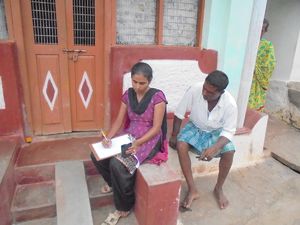 The Prakriye team started the creation of a systematic, household-level digitalised data-set, tracking key socio-economic dimensions, for all villages associated with each information centre – to enable targeted outreach and enhance efficacy and efficiency of info-centre activities. By March 2015, such data sets had been created for 3 info-centre villages – Bharatwadi, Hosavaranchi and Thumbasoge.
A new video format to influence the local discourse on gender and governance was created, in the format of a 'video newsletter'. One major push-factor in the development of this innovation was the eagerness of the team to invest in a new media strategy that would help mitigate some of the unexpected losses incurred, due to disruption of the Kelu Sakhi weekly community radio programme due to the sudden closure of the Gyan Vani channel in September 2014 because of an administrative difficulty between AIR and IGNOU.
In 2 Panchayats, Prakriye utilised GIS-enabled participatory mapping to build local awareness on the need for improving school infrastructure and conducting a social audit of the Panchayat, with respect to the allotment of subsidies and investing in public infrastructure.
Key Advocacy Events
| Date | Key Event | Participant |
| --- | --- | --- |
| May 2014 | Regional Conference on "Achieving Gender Mainstreaming through Convergence", organised by National Mission for Empowerment of Women (NMEW), Ministry of Women and Child Development (MWCD), Government of India, with the objective of sharing cases studies and exchanging experiences on gender mainstreaming and convergence across sectors. IT for Change was invited to share learnings on convergence, from its information centres strategy. | Anupama Suresh, IT for Change |
| May-June 2014 | Anita Gurumurthy was part of the field evaluation team of Sanchar Shakti, the Proof of Concept pilot initiative of the Department of Telecom, Government of India that focuses on the delivery of mobile Value Added Services to rural women's self-help groups. | Anita Gurumurthy, IT for Change |
| June 2014 | IT for Change was invited to present suggestions before the expert committee constituted by the Government of Karnataka for the revision of the Karnataka Panchayati Raj Act, based on our experiences of deploying ICTs for strengthening gender-responsive local governance across seven Gram Panchayats of Mysore district. | Anita Gurumurthy, IT for Change |
| 11-12 August 2014 | IT for Change attended the India CSO National Consultation on the Beijing Platform for Action (BpfA) organised by the Beijing+20 Working Group comprising of Civil Society Organisations and UN Women Civil Society Advisory Group (CSAG) and UN Women (New Delhi). | Anita Gurumurthy, IT for Change |
| 23 April 2015 | IT for Change was invited to share insights from Making Women's Voices and Votes Count, during the 'Girls in ICT' event organised by the Asia Pacific Telecentre Network (APTN) and the Research Center of Communication and Development Knowledge Management (CCDKM) of Sukhothai Thammathirat Open University in Thailand, in the context of the ITU's 150th anniversary. | Anupama Suresh, IT for Change |
| 8-9 July 2015 | IT for Change was invited to present suggestions on the digital opportunity for strengthening gender-responsive local governance, at the national level Workshop for supporting state governments to develop Gram Panchayat Development Plans, organised by the Ministry of Panchayati Raj, Government of India in July 2015, at the Kerala Institute of Local Administration. We shared key insights from the Making Women's Voices and Votes Count project on leveraging the potential of ICTs for participatory planning. | Anita Gurumurthy, IT for Change |